Jason Statham "Blitz"-es DVD shelves August 23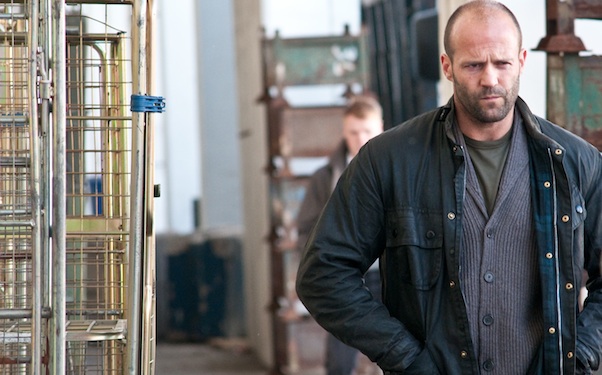 Posted by Matt Singer on
Though Maxim once famously compiled "The Many Expressions of Jason Statham," there is one definitive Jason Statham Face, and he does it in every Jason Statham movie. If you've seen any of the man's work, you know it: head down, cocked to one side, squinting eyes looking back over his shoulder, lips curling into a menacing smile. He does it at least three our for times in every movie. Sure enough, check out this publicity still from his upcoming movie "Blitz:"
Damn. Even by Jason Statham standards, that's good Jason Statham Face.
I'm not sure why any movie starring Statham — pound-for-pound one of the most dependable actor working in film today — goes straight-to-DVD, but that's what's happening to "Blitz." The film already opened in the UK, but despite the fact that it's written by Nathan Parker, the screenwriter of Duncan Jones' "Moon," and co-stars Paddy Considine and Aidan Gillen, it's going direct to home video shelves here in the states, where it will premiere on August 23. A miscarriage of justice! People we need to treat Statham better, lest he decide he no longer wishes to bless us with his sublimely manly action movies. You shouldn't need a trailer to convince you to see this, but here it is anyway.
Granted, it does look like a pretty formulaic thriller. As a general rule, Statham always plays "the man who breaks all the rules." But, on the plus side, he's Jason Statham.
Also, I'm sharing another still from the film that came attached to its press release. I can't stop staring at it. It's Aidan Gillen wearing… well, see for yourself.
Carcetti, no! I have a strange hunch that he's the villain of the movie. Action Movie Rule #428b: Action heroes are not allowed to wear cheap neon green sunglasses. Or be that pale.
Look for "Blitz" on DVD and Blu-ray on August 23 from Millenium Entertainment, the same company who announced earlier today that they're releasing Richard Linklater's new film, "Bernie" starring Jack Black. He's good, but he's no Statham.
What's your favorite Jason Statham movie? Tell us in the comments below or on Facebook and Twitter! And, yes, "All of them" is an acceptable answer.