Apparently James Franco didn't think the Oscars were very funny either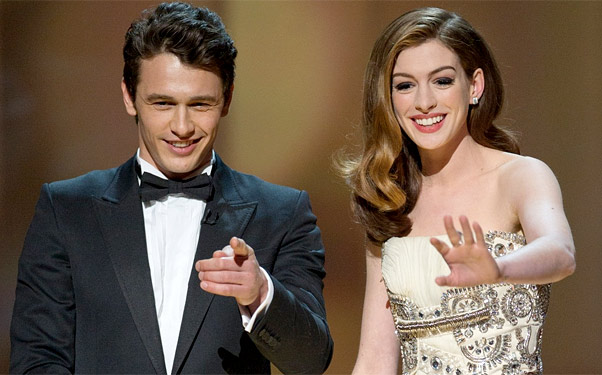 Posted by IFC on
The Oscars this past year were lambasted, because instead of being merely unfunny, they were aggressively so, due in large part to the off-putting excitement of Anne Hathaway and the completely disinterested demeanor of her co-host James Franco. Luckily, Franco recently spoke to "Playboy" and explained that the lousy show was totally not his fault.
As picked up by the Huffington Post, Franco started off by saying, "It's hard to talk about because it's like assigning blame – not a fun thing to do." He then followed up his assertion by getting right into assigning blame.
One of the most uncomfortably terrible gags at the 83rd Academy Awards saw Franco dress up like Marilyn Monroe. But the bit was originally supposed to see the actor throw on Cher drag and attempt to sing like her, a gimmick that was scuttled after Cher failed to get nominated for her role in "Burlesque."
Franco tells "Playboy," "I was so pissed about that I was deliberately going to fall onstage and hopefully my dress would fall off or something – they couldn't blame that on me; I was in high heels." Instead of pulling off what would have surely been a hilarious pratfall, however, Franco instead decided to go the more tasteful route, flashing a hipper-than-thou smirk and derailing Hathaway's overenthusiastic mugging.
Oh! Waitaminute, our mistake: Franco's overly sedated performance wasn't just a result of not caring, it was actually his choice as an ACTOR. "As far as having low energy or seeming as though I wasn't into it or was too cool for it, I thought, Okay Anne is going the enthusiastic route," Franco explained, "I've been trained as an actor to respond to circumstances, to the people I'm working with, and not force anything. So I thought I would be the straight man and she could be the other, and that's how I was trying to do those lines."
And in case you're still not convinced that Franco's Oscars performance absolutely wasn't his fault, you'll be relieved to find out that the show, in fact, was actually great! "After the show everybody was so happy," said Franco, "and Bruce Cohen, the show's producer, hugged me and said 'Steve Spielberg just told me it was the best Oscars ever!"
HuffPo's rundown of the Franco interview is definitely worth a read, as the actor also gets into Judd Apatow being hired to write jokes for the Oscars, and his connection to a "Gay Rapist" story in the New York Post.
What do you think? Was Franco the victim of circumstances, or did he just give a lousy performance? Leave your comments below or on Twitter or Facebook.