Is Woody Allen a genius?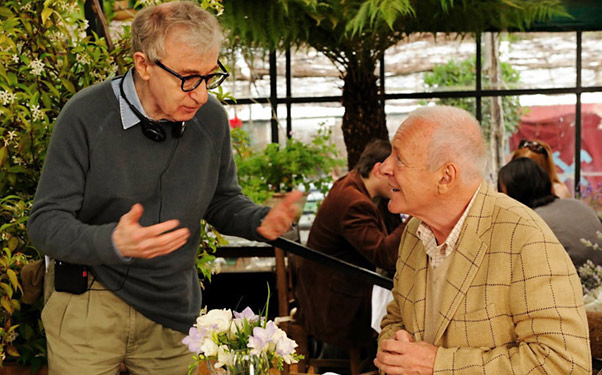 Posted by IFC on
Every decade or so there is a felt need among the cognoscenti to reassess the value of proto-American indie director Woody Allen's work. In his "European Period" – or, more accurately, his "European Financing" period — Allen is, at present, enjoying unprecedented success. "Midnight in Paris" has now, against all odds, surpassed "Hannah and Her Sisters" as Woody's biggest hit. How the heck did that happen?
Part of this newfound success has to do with Allen's new Euro audience. His core has held and he has added a new geographical region of admirers. The fresh material – another continent not one's own – has allowed Woody to break out of those meandering comedies that made up his last unsatisfying New York-based works.
To the question at hand: Is Woody Allen a genius? Woody certainly sets the bar high for himself. He has always measured himself against the heavyweights of art house – Fellini, Bergman, Kurasawa – in the same way that the American novelist Norman Mailer measured himself against Ernest Hemingway. Unlike Mailer, however, who boldly claimed the literary heavyweight throne after Papa's death for himself, Woody doesn't think he is in the same room.
Further, Woody Allen doesn't consider himself to be profound at all. He told The Telegraph recently: "I'm not the great artist that I was certain I would be when I was younger. I still delude myself sometimes and think, 'Well, maybe I'll get lucky and something will come out like that.' But you know, after 40, 41 films, whatever – you start to realize: it's just not there."
There might be something to that judgment, harsh though it is. Woody Allen would appear to be something of a genius to the scads of A-List actors and public figures that clamor for even the smallest of roles in his films. And his best films – "Hannah and her Sisters," "Manhattan," "Crimes and Misdemeanors" – are all, at the very least, minor masterpieces holding up solidly to multiple viewings. But do those films, ultimately, hold up against, say, Bergman's "Cries and Whispers"? Fellini's "8 1/2"? They do not.
Woody Allen is correct, he is probably not a film genius if by film genius one means the equal to Bergman. But Woody Allen's perfectionism – comparing himself to those geniuses – is admirable and perhaps if not a sign of genius, of near-genius.
Leave your own thoughts on Woody Allen in our comments below or on Facebook or Twitter.