Comic-Con: Final "Avengers" art poster reveals Mark Ruffalo's Hulk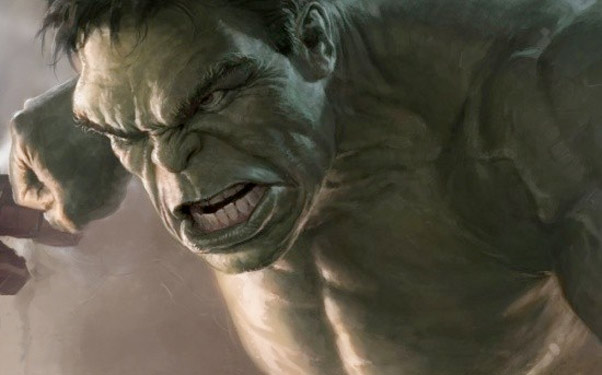 Posted by Rick Marshall on
The seventh and final Comic-Con promo poster for "The Avengers" has finally found its way online, completing the full cast reveal of Marvel Studios' upcoming superhero team-up film.
The studio apparently chose to save the biggest character for last, as the new poster puts the spotlight on Hulk, the green goliath with an affinity for smashing anything and everything in his sight. While Hulk has been seen on the big screen already in not one but two recent films — 2003's "Hulk" starring Eric Bana and 2008's "The Incredible Hulk" starring Edward Norton — this is our first look at the version of character that will appear in "Avengers."
Announced almost exactly a year ago at 2010's Comic-Con International in San Diego, Mark Ruffalo will take on the role of Dr. Bruce Banner, Hulk's alter ego, in the upcoming film. However, unlike his predecessors in the role, Ruffalo has indicated that this version of the Hulk will actually have features mapped to his own face and body.
(Honestly, I'm not sure I see much of Ruffalo's face in the new Hulk art, but the first footage could offer more similarities.)
Along with providing the last piece of "Avengers" promo art from the show, the new poster also completes the wide, banner-style image that can be created from all seven posters. Offering a nice look at the full roster of the superhero team, the banner is the sort of thing likely to send a chill down the spines of hardcore fans.
Previously, we got a look at the Hawkeye and Black Widow art, as well as the posters for Iron Man and Captain America, Thor, and S.H.I.E.L.D. agents Nick Fury, Maria Hill, and Phil Coulson.
"The Avengers" is scheduled to hit theaters May 4, 2012.
What do you think of the new Hulk poster and the full "Avengers" banner? Chime in below or on Facebook or Twitter.