Hit indie smash "Limbo" coming to PC and PS3 soon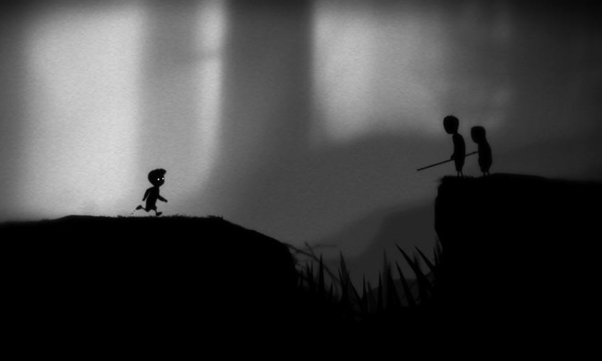 Posted by Evan Narcisse on
Exclusivity's been a dirty little engine of the video games business since its earliest days. Colecovision would sell you on the games and graphics that weren't possible on the Atari and on and on it went. While there may've been some truth to claims of technical superiority in the '70s and '80s, the skills of developers on various platforms tends to be more commensurate across the board now. Some consoles do things in a technically different way than others, but they're all capable of really amazing feats. It's become more about talent than platform.
Yet the exclusivity wars continue and the biggest casualty is how they lock out great experiences from people who own the "wrong" game box. Some real angst comes with that. Xbox 360 owners toss and turn at night at never being able to play the PS3's excellent "Uncharted" games and the Sony faithful gnash their teeth over missing out on the atmospherics of "Gears of War." (It's long been a fact that Nintendo operates as its own closed ecosystem, so there's no real yearning about what it may be like to play, say, a "Metroid" game on a PlayStation. Gamers just know that that ain't happening outside of apocalyptic circumstances.)The amount of money spent on developing high-end AAA games like those two franchises–positioned as system sellers for each console– somewhat justifies the fact that you can only play them on one system.
Even indie games get caught up in this territorialism, leading to the same kind of abortive conversations that end in "Oh, wait… you have a 'Y' system; you can't play this awesome game. Sorry, bro." PlayDead's "Limbo" was one of those games. The macabre minimalist puzzle platformer was one of my favorite games last year and I'd rave about it to whomever I could, only sometimes realizing that a PC-gaming friend could only pine away for the black-and-white beauty.
Now, the reasons that PlayDead probably went exclusive with Microsoft are manifold. Being part of the Summer of Arcade promotion guaranteed a certain amount of buzz and attention for their first game. They could stop worrying about whether anyone would buy or play it, and focus on finishing the game. And, it looks like a stupid decision after the game's success, but maybe they got doors slammed in their faces as they were shopping their dead-boy protagonist wares. Any way you slice it, "Limbo" seemed locked to the Xbox 360 for infinity. Starcrossed PS3ers even used game-making game "LittleBigPlanet 2" to craft "Limbo: Son of the Forest," an homage to PlayDead's dark, fatalistic fantasy.
But, another truism of the games business is that, for the right price, nothing's exclusive forever. Time was, you could only play a "GTA" game first on a PlayStation 2 and Sony was paying hefty sums for those timed exclusives. Oh, it'd eventually come to the Xbox but after a looonng six-month wait. But that all changed when the current console cycle happened. More simultaneous multiplatform release became the norm, with exclusivity winding up more rarefied.
The timed exclusive is nothing new, then, but the one "Limbo" appears to have just come out from under was so well masked that chatter about it winding up elsewhere dwindled. For their part, PlayDead never totally ruled out the idea that "Limbo" would be playable elsewhere. Still, the reports from the Korean Game Rating Board, which were later confirmed by the dev studio's Dino Patti, came as a surprise to many. Patti's since said that "Limbo" will be coming to both the PlayStation Network and Valve's Steam service, though there's no word on exact timing. Usually, post-exclusivity releases like this include a little something to sweeten the deal for newcomers. But "Limbo" was such a tightly crafted knot of gameplay that I'd wager that anything left on the cutting room floor probably wouldn't add to the experience. So, give thanks, PS3 owners and PC gamers! A great game's coming your way without having to shell out cash for another console. And guard your hearts against exclusivity. Except when, y'know, you can't.
Do you think "Limbo" will be any better on PS3 than on Xbox 360? Let us know in the comments below or on Facebook or Twitter.