Comic-Con: Hilary Swank signs on for sci-fi comic book movie "Shrapnel"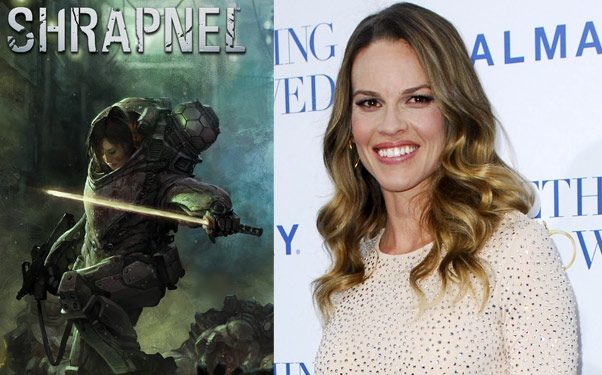 Posted by IFC on
Oscar-winner Hilary Swank has made a name for herself in gritty, dramatic roles throughout her career, but her latest project could have the actress looking to the stars.
Announced this week at Comic-Con International in San Diego, Swank will produce and star in an adaptation of "Shrapnel," a science-fiction comic about a female soldier who ignites an outerspace revolution.
Radical Comics' "Shrapnel" first hit shelves as a five-issue series in 2009, and was created by Mark Long and Nick Sagan, the son of veteran sci-fi novelist Carl Sagan. The screenplay for the film is being written by Toby Wagstaff.
Set in the year 2250, the story follows Samantha "Sam" Vijaya, a former Solar Alliance Marine, as her self-imposed exile on the planet Venus is threatened by the arrival of the vicious government forces. Vijaya gets caught up in the battle and soon finds herself at the center of a revolt against the military system she once served.
While it might seem like an unlikely role for the "Million Dollar Baby" and "Boys Don't Cry" actress, Swank indicated in the official announcement that it was the presence of a strong, female protagonist that sold her on the project.
There is no release date scheduled for the film at this point.
Are you a Shrapnel fan? Does it sound like a movie you'll check out? Chime in below or on Facebook or Twitter.