Nicolas Cage gets fired up in new "Ghost Rider: Spirit Of Vengeance" pics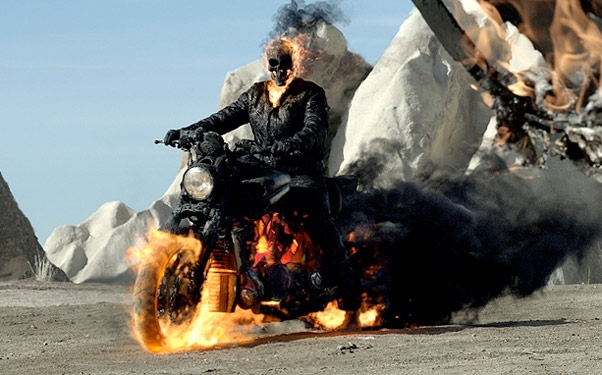 Posted by IFC on
Nicolas Cage obviously has a fire in his belly for the "Ghost Rider" franchise. The first film hit theaters way back in 2007, but his follow-up, "Ghost Rider: Spirit of Vengeance," finally has some photos to show off. And this time, it looks like Ghost Rider's skull is starting to feel the burn.
New images featuring Cage, as well as his co-star Idris Elba, hit the Internet today via Empire Online, and they offer a few hints about what we can expect to see in the film.
Ghost Rider, first of all, looks like he's been hitting the tanning salon since we last saw him. His white skull and metallic elements from his outfit all appear as though they've been overcooked. Perhaps that's just part of the aging process when you ride around on fire all the time, though.
Directors Mark Neveldine and Brian Taylor must have darker things in mind for Johnny Blaze, who travels to Eastern Europe to fight the devil in "Spirit of Vengeance." Cage still cleans up nice when he's not on fire, however. He appears to be delivering a very serious line (perhaps about his nice haircut) in one of the three photos that were released.
Elba, meanwhile, makes his debut as a warrior monk looking just as intense as you would expect him to. It's unclear who the guy in the background is, but Elba dodges gunfire like pro.
Then there is Ghost Rider's motorcycle, which may be even less street legal than it was under the direction of Mark Steven Johnson. All of that clean-burning hellfire now produces a lot more black smoke. When you're tracking down the devil, reducing the size of your carbon footprint evidently isn't a major priority in the Marvel Universe.

Idris Elba in "Ghost Rider: Spirit of Vengeance"

Nicolas Cage in "Ghost Rider: Spirit of Vengeance"
Are you looking forward to seeing Nicolas Cage back in the "Ghost Rider" saddle? Let us know below or on Facebook or Twitter.