"Friends With Benefits," reviewed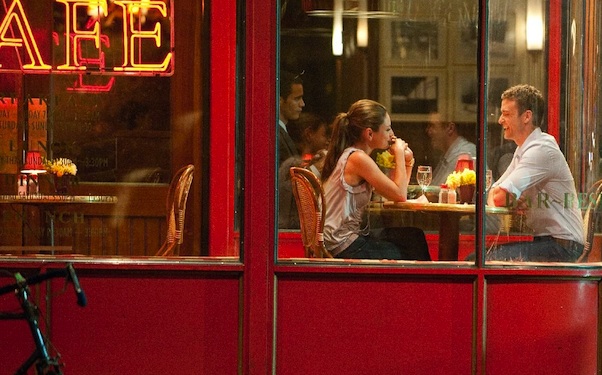 Posted by Matt Singer on
The characters in the romantic comedy "Friends With Benefits" like to watch romantic comedies. Well, technically they don't really seem to like them all that much. Mostly they like to complain about them, and anyone who's endured a bad romantic comedy in the last few years will recognize their issues: they're lame, tedious, and above all, inauthentic. The people aren't real, their problems aren't real, their dialogue isn't real, and they're invariably hanging out in a tax-break-offering approximation of whatever city they're supposed to live in.
But despite her frustration with the genre, Jamie (Mila Kunis) keeps watching rom-coms. So do a lot of us, in the hope that once in a while we'll get a good one like "Friends With Benefits." True, the film doesn't quite live up its own ideals; though it actively campaigns against artificiality in romantic comedies, it isn't always a model of verite filmmaking. Jamie meets her man Dylan (Justin Timberlake) in a classic (i.e. illogical and forced) rom-com meet cute and many of the other cliches of the genre are trotted out, albeit with a little less dust and a little more self-referentiality. The movie definitely has its cake and eats it too. But when that cake is filled with the sweetness of Timberlake and Kunis and tart grace notes from an excellent supporting cast that includes Patricia Clarkson and Richard Jenkins, you don't mind eating a slice or two.
Jamie is a corporate head-hunter who recruits Dylan from his gig at a popular Los Angeles blog to move to New York City to work as the art director of GQ magazine. They've both just been dumped by their significant others but Dylan is still a little skeptical about uprooting his whole life. He shouldn't be, though, since the art director of GQ apparently makes enough money to afford an amazing pre-furnished one bedroom apartment in Manhattan that would go for at least $3,000 a month (a flourishing magazine industry with lots of available and insanely lucrative jobs? Like I was saying: not as authentic as advertised).
After a charming nighttime tour of New York City's sights with Jamie, Dylan decides to take the job. Once he moves east, the two strike up a friendship and then, one night after watching a particularly wretched romantic comedy, they decide to test the boundaries of that friendship by adding sex into the mix. Just sex, though, without its typical requisite emotional entanglements. After swearing on a iPad Bible app, they dive into bed for a series of love scenes that are refreshingly filthy, at least by the standards of mainstream Hollywood comedies. While the movie hews much closer to the rules of romantic comedies than it would like to admit, its stars have have honest-to-God movie star chemistry together, and their scenes sparkle with warmth, humor, and sex appeal. Even if the movie around them is less real than it aspires to be, the connection between the two leads feels totally genuine.
The director and co-writer of the film is Will Gluck, whose last film, "Easy A," was one of the best mainstream comedies in years. "Friends With Benefits" isn't quite up to that level — not as clever, not as well-written, and a whole lot more predictable — but it's an utterly charming date night movie. Gluck's got an obvious rapport with actors and he never makes the mistake that a lot of bad rom-com directors do: talking down to his audience. He's also got an unappreciated knack for portraying child-parent relationships onscreen. A lot of the best stuff in "Easy A" was between Emma Stone's Olive and her mom and dad, Patricia Clarkson and Stanley Tucci. Clarkson returns here as Kunis' man-hungry single mom, and steals every scene she's in (not an easy task, given the intense wattage of the star she's stealing from). Best of all is Richard Jenkins, who has an even smaller and even more powerful role as Dylan's ill father. His moments with Timberlake, particularly one in an airport, are so sad and moving they probably belongs in another, more serious movie. But they're so damn good, I'm glad they found their way into this one.
Then again, maybe they do belong in "Friends With Benefits." Jenkins' parts are as close as the movie gets to being a romantic comedy that truly breaks the rules of romantic comedies. The movie ends with a big dramatic movieish confrontation in a major New York City landmark, and though it's couched as a critique of a similar scene in a bad rom-com, it's still pretty clearly a fantasy.
Maybe verisimilitude isn't what we want from rom-coms after all. Jamie may not like these movies, but she watches them anyway, even wishing on more than one occasion that that her life was like a movie. Perhaps we don't need authentic rom-coms, just better ones, with more attention to detail, more charismatic stars, and smarter characters that give us the feeling, if not the reality, of being in love.