Freddy Krueger coming to "Mortal Kombat"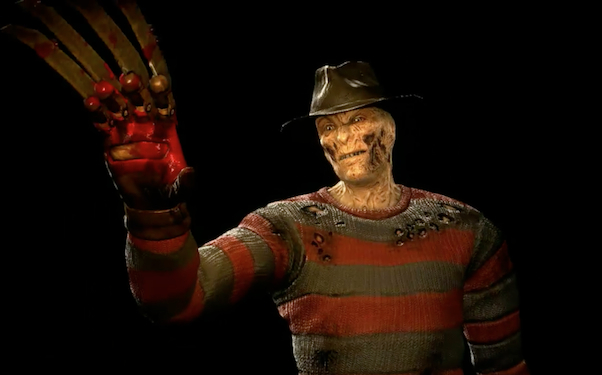 Posted by Evan Narcisse on
If fighting games are good for one thing–aside from illogically bouncing boobs–it's throwing in wildly unrelated characters into their to-the-death tournaments. Memorable examples can be found in the very existence of the "Marvel vs. Capcom" series and the "King of Fighters" franchise, which lumps together brawlers from several disparate arcade titles in games that often don't even feature story. Recent moves in the same vein include the canon-breaking appearances of Darth Vader, Yoda and latter-day Jedi Starkiller in Namco's "SoulCalibur IV" and the "Mortal Kombat vs. DC Universe" game put out by the now-defunct Midway a few years back. That game came out just before the Chicago-based publisher's bankruptcy and featured Superman, Wonder Woman and Batman in bloody battle with Scorpion, Sub-Zero and the rest of the mystical martial artists from the MK-verse.
Apparently, the appearance of interlopers tickles the collective fancy of Netherrealm, the developers behind the reinvigorated Mortal Kombat. In this year's relaunch of the notoriously gory fighting game, the PlayStation 3 version let players fight with that console's Kratos character, best known for the Greco-Roman mythological action series And now, just announced at Comic-Con is the impending arrival of Freddy Krueger, the metal-taloned boogeyman of Wes Craven's classic "A Nightmare on Elm Street." The fedora-wearing man-monster will be available as a DLC character beginning on August 9th and will cost 400 Microsoft Points ($4.99). The playable version of the dreamscape's predator looks to be based on the 2010 "Nightmare" reboot instead of the classic look originated by Robert Englund (who stars in the zombie-centric DLC for Call of Duty: Black Ops).
The trailer above looks to make Freddy a formidable foe for the warriors of Earthrealm and Outworld. Freddy's apparently got beef with big MK bad guy Shao Khan over a soul-stealing dispute but, let's be honest, none of that matters. All fans want to see is who's got the sharper blades between Freddy and monstrous enforcer Baraka. And that Fatality move with the furnace shows that Netherealm's done their research, paying a nice homage to Freddy's preferred method of getting rid of victims. You'll get your chance to slice things up with Mr. Krueger in a few weeks.
What do you think about the addition of Freddy to the roster of "Mortal Kombat" characters? Let us know in the comments below or on Facebook or Twitter.