Our top 10 favorite movie scars, from "Harry Potter" to "The Dark Knight"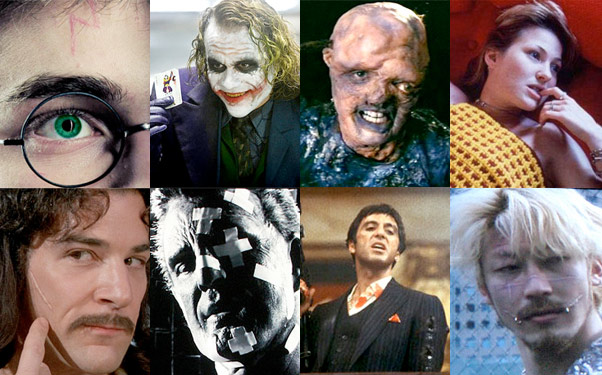 Posted by IFC on
"Harry Potter and the Deathly Hallows: Part 2" officially concludes the adaptation of J.K. Rowling's multi-volume story about a little wizard boy who didn't quite know what to make of a jagged lightning bolt scar on his forehead. Harry's not alone, though. Scars are great conversation starters for anyone who's ever lived through a fight in a film.
In "Jaws," "Sin City" and "The Dark Knight," scars have completely altered the ways we understand the main characters. Sometimes they get us interested in someone's personal history, and other times, such as in "Ichi the Killer," the less that gets said the better. Here's a roll call of the hacks, slashes, bumps and gashes that piqued our interest the most, based on their shapes, stories and in some cases special abilities.
---
10. Marv's body, "Sin City" (2005)
Everybody who's anybody in "Sin City" has a scar with a story behind it. Mickey Rourke's character Marv just happens to have a whole body's worth. It's possible that he got them during combat in the military, but given his penchant for jumping out of windows and into police squad cars through their windshields, it's more likely that he just collects them like lint wherever he goes. Guys like Marv have to deal with enough building escapes and dangerous revenge missions that scar tissue and bleeding don't rank very high on their lists of day-to-day concerns.
---
9. Inigo Montoya's face, "The Princess Bride" (1987)
The case of Inigo Montoya (Mandy Patinkin), the scars on the sides of his face are merely punctuation marks when he tells the story of how he intends to seek revenge against a man with six fingers for the death of his father. Even if he doesn't go into detail in the film about how he received them, they're still there as ominous evidence of his battle wounds on his quest to track the evil fellow down.
---
8. Alyssa Jones' love scars, "Chasing Amy" (1997)
Sometimes the story behind a scar is far more entertaining than the mark itself. In the case of Banky (Jason Lee) and Alyssa's (Joey Lauren Adams) wound chat in "Chasing Amy," that is definitely the case. As homage to Steven Spielberg's "Jaws," the two go at it trying to top each other with story after story about injuries they sustained during sex acts. Unfortunately for Banky, his lost tooth and dysfunctional neck can't top Alyssa's heel mark from falling asleep while pleasuring another girl and her scandalously sliced-up knee. (Always be careful while getting it on in a parked car on a hill.)
---
7. Quint's arm, "Jaws" (1975)
The scene Kevin Smith tipped his backwards cap to in "Chasing Amy" likewise leaves the impact of its scars to the storytelling. During a male bonding session at sea, Matt Hooper (Richard Drefuss) and Sam Quint (Robert Shaw) immortalized the phrase "I got that beat." Quint breaks out a lump on his head, which Hooper attempts to one-up with a moray eel bite. An arm wrestling injury and a shark scratch eventually lead to a question about a tattoo removal scar on Quint's left arm, though. Quint then explains that the tattoo was of the USS Indianapolis and that he served on the ship when it delivered the Hiroshima bomb and was torpedoed during World War II.
---
6. Tony Montana's face, "Scarface" (1983)
We don't get all of the juicy details about the scuffle that resulted in Tony's (Al Pacino) childhood memento, but when he gets interrogated and asked if he got it while providing oral pleasure to a woman (he and Alyssa Jones could start a club), Montana explains that the kid he had the dispute with is currently unrecognizable.
---