The "Evil Dead" remake maybe, possibly, could be, might be moving forward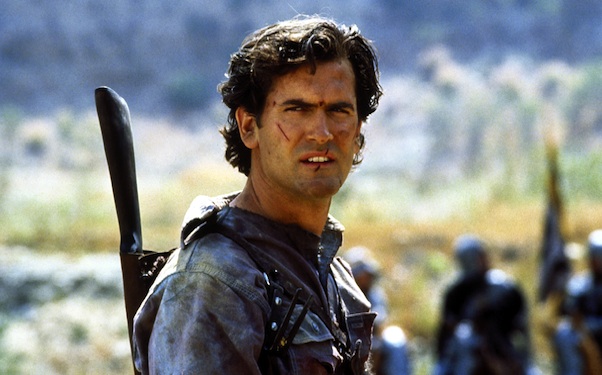 Posted by Matt Singer on
From our Department of Things We'll Believe When We See Them comes news that after decades of speculation, teases, false starts, empty promises — not to mention flat-out groveling from fans — a new "Evil Dead" movie might actually be happening. Might be. Let me repeat that. Might be. Again, this is from our Things We'll Believe When We See Them Department, the people who brought you such classic movie news stories as Quentin Tarantino's joint "Reservoir Dogs" and "Pulp Fiction" sequel and John Turturro's "Big Lebowski" sequel featuring Jesus Quintana.
Here is what we think we kind of know at this point. Dread Central reports a "reliable source" tells them that Bob Murawaski, editor and frequent collaborator of Sam Raimi "has packed up and headed out to Detroit to begin work on the long talked about fourth entry into the Evil Dead franchise, which will be 'a small indie thing like the first two.'" They've coupled this nugget of information from a recent tweet from "Evil Dead" star Bruce Campbell that reads, in part, "The project is real. In the works. Cool as hell. Scary as hell."
Well then, it must be happening! Let's all start camping out for tickets right now.
I was around for the early days of the "Evil Dead" cult. Back then the rumors about a fourth "Evil Dead" were out of control, mostly because the third film, "Army of Darkness," had just come out on DVD with an alternate cliffhanger ending. Folks, that was almost fifteen years ago. "Evil Dead 4" rumors are so old they're practically ready to get their driver's license.
Would I love to see another "Evil Dead?" If Raimi and Campbell are involved, absolutely. But I've been waiting so long for this movie, I'm past believing it when I see it. At this point, even when I see it I won't believe it. I'll just assume I'm dreaming or the victim of some evil Deadite plot or something.
What do you think? Will we ever see another "Evil Dead" movie? Or is life just a series of horrible, crushing disappointments? Tell us in the comments below or on Facebook and Twitter!