Emile Hirsch looks worried in first image from alien invasion film "The Darkest Hour"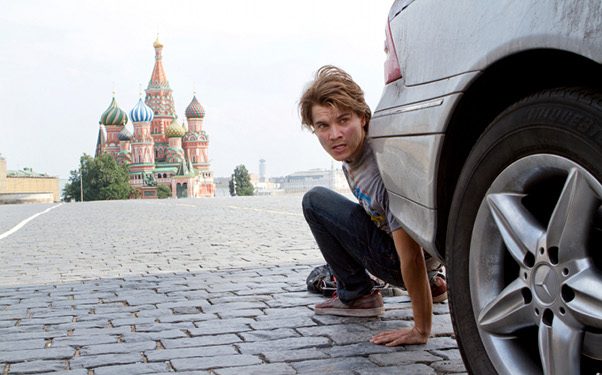 Posted by Rick Marshall on
We've seen alien invasions rip apart the U.S. so many times now in movies, it's only fair to give other countries a chance to get demolished on the big screen.
In Summit Entertainment's 2011 film "The Darkest Hour," five people stranded in Moscow are faced with the horrors of an alien attack, and must fight for their lives in Russia's capital city.
Directed by "Fight Club" and "Fear and Loathing in Las Vegas" art director Chris Gorak and produced by Timur Bekmambetov ("Wanted," "Night Watch"), the film features Emile Hirsch and Olivia Thirlby as two of the young survivors.
Summit has released the first image from the film, offering a peek at Hirsch as he hides behind a car. The iconic towers of Saint Basil's Cathedral in Red Square loom in the background.
Given how often audiences are faced with the obliteration of American cities, the involvement of Bekmambetov means that "The Darkest Hour" will probably offer a decidedly different perspective on the events that unfold when our outer space neighbors turn out to be less than friendly.
Hey, it can't always be the U.S. getting blown to bits, right?
"The Darkest Hour" will be presented in 3-D when it hits theaters December 23, 2011. You can find out more about the film on its official website: www.thedarkesthourisnear.com.
What do you think of the first image from "The Darkest Hour"? Chime in below or on Facebook or Twitter.