Indie dev Edmund McMillen reveals new game "The Binding of Isaac"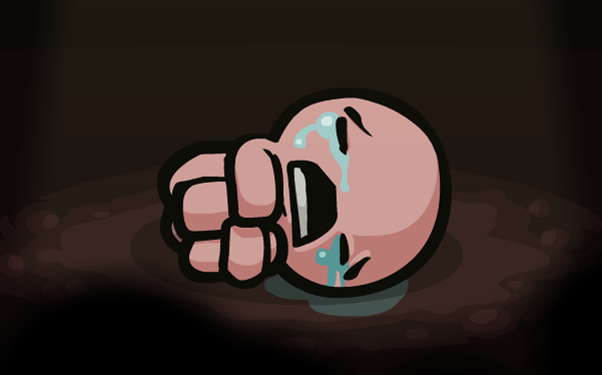 Posted by Evan Narcisse on
Chances are, you're still trying to finish "Super Meat Boy," the ultra-difficult, retro-inflected indie platformer that took the gaming world by storm last year. I named it as one of IFC's Best Games of 2010 and it won similar accolades from tons of other critics and websites. Since the last update that lets "SMB" players create and share their own sadistic level designs with each other, things have been quiet from the game's creators Tommy Refenes and Edmund McMillen, collectively known as Team Meat.
But, while the two are working another Team Meat game together, McMillen's also been working on a side project called the Binding of Isaac. McMillen just announced that it'll be available on Valve's Steam download service in August for an as-yet-undetermined price. He's been keeping mum about specifics but mentions that the game's a shooter and a roguelike , the latter term referring to a subspecies of role-playing game where the level layout and other elements are randomized for a different experience each time. You also tend to have to start over at the beginning of a level when you die in roguelikes, something which harkens back to the difficulty of games of yore.
In a recent interview with IGN, McMillen talked about the influences that he's hoping to surface into the game, namely the 1980s demonization around "Dungeons & Dragons," video games and rock 'n' roll music.
"The game has minor biblical themes based around Abraham going to sacrifice his son to prove to God that he believed in him – which is dark in itself. So you've got this kid whose mum wants to kill him, and he escapes into the basement to get away from her and eventually – maybe – conquer her."
"I got on this kick, and I was watching a bunch of crazy evangelical Christian scare films from the 80s – D&D sending kids to hell, that sort of thing – and there's just some crazy videos out there of people swearing that they grew up in a satanic cult and their parents were trying to murder them and they sacrificed babies. I think that's where it's all coming from."
McMillen grew up back when the culture war histrionics created rumors of devil worship and child endangerment around the staples of youth culture and is embedding those worst fears into "The Binding of Isaac." It'll be interesting to see just how dark McMillen goes with this game and if it'll be just as mercilessly hard as "Super Meat Boy."
Are you excited to travel in another one of McMillen's creations? Let us know in the comments below or on Facebook or Twitter.