Five things we hope to see in the "Evil Dead" remake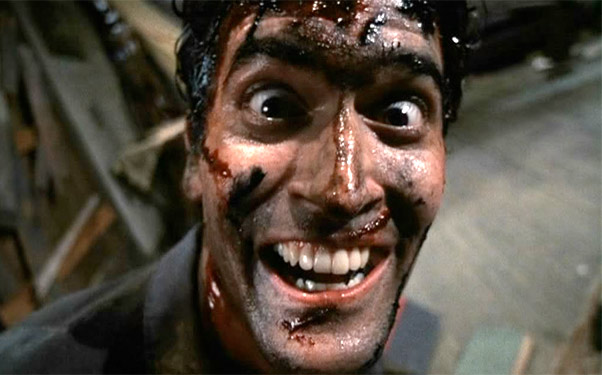 Posted by Aubrey Sitterson on
With the recent news that the "Evil Dead" remake actually appears to be moving ahead, (with Diablo Cody punching up the script, no less) we've been thinking about Sam Raimi's seminal horror-comedy flick more than usual, which frankly, we didn't even think was possible.
So, in honor of the news that we may get our first taste of the "Evil Dead" franchise since 1992's "Army of Darkness," we've assembled the top five things we want to see in the upcoming remake. But don't worry, Diablo Cody-haters, you won't find "quippy pop culture references" or "hamburger phones" anywhere on this list.
1) Traditional Special Effects
One of the things that made the original "Evil Dead" so charming were all the low-rent special effects. Unfortunately, given that it's the year 2011, Lionsgate is most likely going to CG the hell out of this thing, especially since its being helmed by Fede Álvarez, the guy who directed that "Ataque de Pánico!" short with all the giant robots. But, we're still holding out hope that they'll find some room for puppets, latex and oh-so-creepy stop-motion animation.
2) Skin
While we're not huge fans of how much contemporary films use shoddy computer generated imagery, we are definitely in favor of another recent development: Excessive eye candy. It's not that Bruce Campbell wasn't a handsome guy (if you're into chins, he's the absolute tops), but his cast-mates were kind of exceptionally 80s – and not in the good way either. Why not take the opportunity to pretty up the women who get subjected to all those awful things?
3) Tree Rape
Speaking of awful things happening to women, how about that tree rape scene? After three decades, the thing is still terrifying, stomach-churning and, honestly, kind of darkly comical. We're not the kind of creeps that enjoy rapes on film or anything, but not only is this scene a great moment in the movie, it also sets up a crucial demon infestation. Here's hoping that the tree rape scene doesn't get sacrificed in the name of political correctness, a lower rating, or, you know, good taste.

4) Bruce Campbell
The original Ashley "Ash" J. Williams, Bruce Campbell, is already signed on to be a producer in the new "Evil Dead" remake, but it's just not enough for us. Campbell certainly shouldn't play the lead – that role should go to someone younger with an even bigger chin (fingers crossed) – but it would be a crying shame for Campbell to not appear anywhere in the flick. Even a "Spider-Man"-style cameo would be enough for us.
5) Chainsaw Hand
In the original "Evil Dead" series, Ash didn't grab his nuts (one-handed) and strap a chainsaw onto his arm until the second movie. But what's the point of a remake if you don't correct the mistakes of the past? You can call it eating your dessert before dinner if you want, but not putting a chainsaw hand in this movie (or any movie, really) is just leaving money on the table.
What would you like to see in the "Evil Dead" remake? Tell us in the comments below or on Facebook and Twitter!