David Robert Mitchell makes "The Myth of the American Sleepover"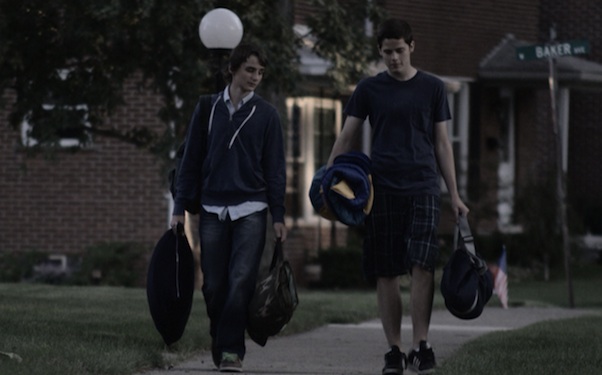 Posted by Matt Singer on
It took a while to find its way to theaters after its well-received festival run through South by Southwest (where it won a special jury prize for best ensemble), Cannes (where it was 2010's only American film at Critics Week) but a year after its premiere, David Robert Mitchell's beautiful debut film "The Myth of the American Sleepover" finally opens in theaters today. "I would have loved for the thing to come out a year ago," Mitchell told me. "But this is when it's coming out. And it's still exciting."
It is; a film this good is worth the wait. It follows the structure of teen ensemble films like "American Graffiti" or "Dazed and Confused" — a single but all-important day and night in the lives of a community of small town kids — but applies its own unique mixture of sensitivity and sweetness. Most of the stories are about the elusiveness of young love. One incoming freshman spots a pretty blonde in the supermarket and spends the rest of the day trying to find her again; an older college kid reeling from a disastrous breakup realizes he might have missed his opportunity to hookup with a pair of twins and sets off toward the University of Michigan to find them. The film dances from one vignette to the next; the stories are small, but their cumulative impact is huge. Working with almost no budget, Mitchell proves himself to be a talented visual storyteller (many scenes, like the one in the supermarket, are told without dialogue) and a good director of actors, or, in this case non-actors, who the director found himself through months of casting sessions.
Before he got back to work prepping his next movie (a similarly structured story about a young woman wandering the beaches of California), Mitchell spoke with me about his own experiences in high school, what to look for when casting a non-professional actor, and how to apply your skills as a movie trailer editor to cutting your own movie's trailer.
What sort of kid were you in high school?
Oh gosh, that's so hard. I don't think I was a nerd, but I definitely wasn't a jock. Boy, how do you define yourself in high school? I played music, and I liked writing stories, and I was already making short films back then. I hate to say this to anybody that was sitting with me back then, but I think we were kind of at the odd outcast lunch table. I'm not sure, maybe some of the people I hung out with would have issue with that. I guess I was sort of in-between, that's probably the way I would remember it.
Well that's interesting, because the characters in your movie aren't easy to categorize either. There isn't a stereotypical "jock" or a stereotypical "nerd." Most could probably fall into the category you just described.
Yeah, those were a lot of the people I knew. Of course, everyone changes all through high school. At different points I remember there were people who you could say were like a jock or a theater person or band person. But making this movie those kinds of distinctions just didn't seem that interesting to me.
There are almost no indicators as to what era this movie takes place in. The clothing, the language, the behavior, none of them are specific to any particular time. What was the thinking behind that decision?
I wanted to suggest that this could be any time. I think it's closer to something in the 80s or the 90s with hints of things from the 50s, 60s, and 70s, and also the present day. The idea was just to blur the eras and not let it be timestamped by any one thing, by any technology or any sort of fad. I guess I was trying to avoid too much pop culture. You can't avoid it completely; I'm sure there's certain things in there that are. The idea was to make something that people of different ages might be able to see themselves in.
You did a pretty good job avoiding pop culture references. The only thing that really caught my eye was a LIVESTRONG bracelet.
Yeah, you're right. There were other things too. We had a newer car in there in a few places, although we tried to mix them up a bit. It's not 100%, but we did our best.
I have to imagine the casting process for a movie like this was not easy.
Yeah, it was hard. [laughs] And it was long. We wanted to find new actors and we decided to shoot the movie in Michigan; that's where I grew up. I live in Los Angeles now, so about ten months before we made the movie, my producer Adele [Romanski] and I flew to Michigan on random weekends to do open casting calls that we promoted through a little community paper. So we had these auditions in community centers and church basements. My family helped out, but it was really Adele and I running the auditions ourselves. We read everyone between the two of us. It took a while but we slowly found our cast.
What do you look for when you're casting a non-professional actor? I have to imagine that some of the kids in the film weren't that good at auditioning — many of them have never auditioned before, they were probably nervous and uncomfortable. What do you see in someone that makes you think they could be right for your movie?
You're absolutely right. There were some kids who did something really great in their first read, but most of the time it took some redirects and me trying to coax something from them that was closer to what we needed. Sometimes that happened in the first audition and sometimes it was about reading everyone and then going back through the tapes and trying to find kids that had a certain amount of screen presence or something unique about them. Sometimes we'd fine someone who was slightly against what we imagined for a certain character and we'd bring them back in. We'd have them read and try to talk to them more extensively about what we were doing and how to take an approach.
I know you shot the film in Michigan, which is where you're from. Did you shoot it in your real hometown?
Yeah, we filmed a lot of it where I grew up, this city called Clawson. It's a suburb near Detroit. We filmed there and all over Metro Detroit and in the city. We went there because it's where I wrote the script, so I wanted it to take place there. But we also had support from friends and family and we had access to locations. The city I grew up in, they were super helpful. As long as we let them know, they basically gave us open access to film in the city and on the streets. It was pretty amazing to be able to do that, especially for not having any money.
Obviously there's a long tradition of great ensemble teen films. Why do you think that structure — which often takes place in the span of a single day or night like your film does — is such an effective way to talk about teenage life onscreen?
I think there's a lot of these movies because people enjoy them. They've meant a lot to me, and I think that's why they get made. The structure itself is great because you have a very specific timeline of going into a night and the sun setting and setting out on some kind of adventure, and having some kind of change happen — even if it's very small — and being someone slightly different when the sun comes up. I think it's pretty simple in that way and pretty symbolic of what it means to start to grow up and be in that middle space between being a kid and being an adult.
There's also something wonderful and magical about allowing people to reconnect to those kinds of nights we've all had. Going out as a kid, whether you're sneaking out or going out with friends, can be really sad or really joyful times. We experience things in really deep ways. We all have memories from those moments — making a film that reminds us of those times is something that people connect to.
Your bio says you've spent time as an editor of movie trailers. Did you edit any of the trailers for the film?
I didn't edit any myself. My good friend and former co-worker cut a bunch of the trailers and teasers for the movie and I worked with him pretty intensely. I definitely understand that world.
It was kind of fun and also challenging. We tried to do something kind of in the spirit of the movie. With a film like this, it's very leisurely paced and so much of it's about tone, it's really hard to explain that or capture that in a minute or two. We had to work hard to get something that at least approximates that, while at the same time gets people excited about it. I think we did that but it was definitely a real challenge. I don't think I'd be able to do it if I didn't have that experience.
You're right; it's not an easy film to sum up in two minutes. I don't know if I've seen the trailer you cut for the movie.
There have been some different versions; I'm only talking about the ones that we did. There's a short one and a long one online that we did, or did the majority of anyway. Check out the long one, I really like that one.
"The Myth of the American Sleepover" opens in limited release today. If you see it, tell us what you think in the comments below or on Twitter and Facebook.