"Cowboys & Aliens" and five other movies you might not know were based on comics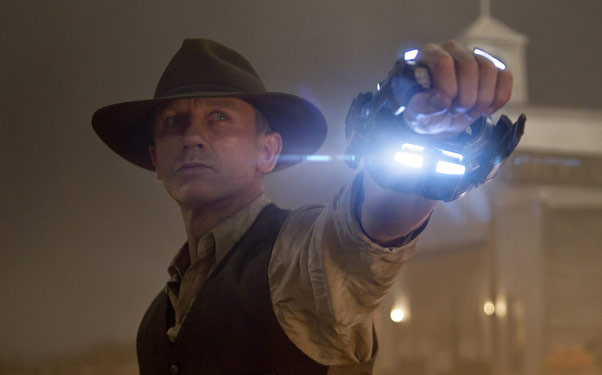 Posted by Rick Marshall on
Jon Favreau's big-budget blockbuster "Cowboys & Aliens" hits theaters this weekend, bringing Platinum Studios' 2006 graphic novel to life on the big screen. But don't worry if you didn't know about the film's comic-book roots, because you're probably not alone.
Like quite a few films before it, the concept for "Cowboys & Aliens" originates in a comic book that isn't nearly as well-known as mainstream titles like The Amazing Spider-Man and Batman. However, just because a comic book movie's source material isn't well known, that doesn't mean the film was any less impressive — in fact, the lesser-known comics sometimes make the best movies.
Don't believe me? Here are five impressive films you might not know were based on comics…
---
"A History of Violence" (2005)
This Oscar-nominated film starring Viggo Mortensen earned lots of praise for its tense, violent imagery, but the story of a diner owner who's thrust into the spotlight after killing two robbers had its roots in a 1997 graphic novel by John Wagner and Vince Locke. Wagner is probably best known for creating the character of Judge Dredd, another character who found his way to the big screen (first in 1995, and again in an upcoming film). While the movie stayed true the source material for much of the story, director David Cronenberg and screenwriter Josh Olsen took significant liberties with the second half of the comic book's tale.
---
"Men in Black" (1997)
Originally published as a three-issue series in 1990, The Men In Black comic book provided the inspiration for Columbia Pictures' blockbuster science-fiction film franchise starring Will Smith and Tommie Lee Jones. The comic was created by writer Lowell Cunningham and artist Sandy Carruthers, and was followed by a second three-issue series in 1991. While the "Men In Black" films were known for injecting humor into Agent J and Agent K's efforts to protect Earth and the extraterrestrial immigrants living there, the original comic was actually quite dark — with the agents often killing witnesses to alien presence on the planet instead of erasing their memories.
---
"Road to Perdition" (2002)
Director Sam Mendes' 2002 film won the Academy Award for Best Cinematography, but the story of mob enforcer Michael Sullivan and his son was first told in a 1998 graphic novel by writer Max Allan Collins and artist Richard Piers Rayner. A well-established mystery writer, Collins was inspired by the Japanese manga Lone Wolf and Cub, as well as the life of true-life gangster John Patrick Looney.


---
"Ghost World" (2007)
Yet another Oscar-nominated film with roots in your local comic shop, filmmaker Terry Zwigoff's 2001 movie "Ghost World" was based on writer/artist Daniel Clowes' 1997 comic of the same name. An indie darling, the comic found its path to the big screen shepherded by Clowes himself, who authored the screenplay for the adaptation and earned an Academy Award nomination for Best Adapted Screenplay. While certain characters in the movie are composites of multiple characters in the comic — specifically, Steve Buscemi's record-collecting loner, Seymour — the movie is fairly loyal to the tone and story arc of the comic.
---
"The Crow" (1994)
Author and illustrator James O'Barr originally created "The Crow" as a method of dealing with the death of his girlfriend, who was killed by a drunk driver. First published in 1989, the gothic superhero series became an underground hit, and was eventually adapted into the well-received 1994 film starring Brandon Lee. Perhaps most notable for the death of its star during filming, the film and its comic-book source material went on to inspire multiple feature-film sequels, a television series, and a hit soundtrack. A new film based on the comic is planned for a 2013 release with Bradley Cooper attached to star. Most recently, IDW Publishing announced plans to reprint O'Barr's early The Crow comics and publish a new set of stories based on the character.
---
What other movies with comic book roots are your favorites? Chime in below or on Facebook or Twitter.