From vikings to ninjas, here are five wild alien-invasion films that don't involve cowboys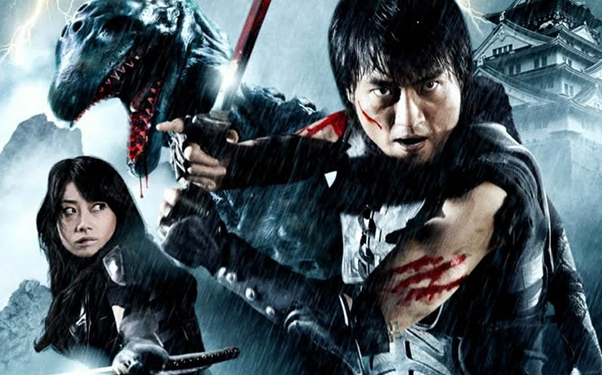 Posted by Rick Marshall on
In "Cowboys & Aliens," director Jon Favreau pits a posse of gunslingers against an extraterrestrial invasion force straight out of a sci-fi nightmare. In many ways, it's a new twist on an old classic, as those pesky creatures from outer space have been wreaking Hollywood havoc for years now, and gtheir efforts definitely haven't been confined to the Old West.
From the age of vikings to the far-flung future, alien invasions have been thwarted by a long list of unlikely defenders from Earth — many of them even more ill-equipped than the "Cowboys & Aliens" cast. Don't believe me? Here are five examples of films that feature entirely unexpected saviors of the planet we call home.
---
"Outlander" (2008)
Pre-dating all of the gunslinging and dynamite of "Cowboys & Aliens," this 2008 film features a battle between Norsemen circa 709 A.D. and a monstrous alien that crashed near their village. While the movie didn't receive much attention, it boasts an impressive cast that includes James Caviezel ("The Passion of the Christ"), Ron Perlman, and veteran actor John Hurt. It also features a massive, CG-fueled beast that puts up a heck of a fight against the viking warriors.
---
"Alien vs. Ninja" (2010)
File this one under "so bad it's good," folks. Featuring a group of ninja who encounter a vicious alien that looks suspiciously like a knockoff of the creatures in the "Alien" franchise, "Alien Vs. Ninja" is equal parts slapstick comedy, martial arts action, sci-fi horror, and ridiculous parody. Crazy wire-work, bad CG effects, and a guy running around in a rubber alien suit — this film has it all. It's like "Power Rangers" on acid, and if you still need some convincing to check it out, go ahead and watch this scene from the film:
---
"Zone Troopers" (1985)
The tagline for this 1985 film was "Zone Troopers: It takes war to a whole new dimension," and that tell you everything you need to know about this entry in the alien-invasion genre.
As if Nazis weren't bad enough, "Zone Troopers" features a unit of World War II soldiers who encounter a crashed alien spacecraft. After rescuing the inhabitants, they're pursued by Axis forces who want to capture both the soldiers and their new, extraterrestrial recruits. It's WWII action mixed with sci-fi silliness, but the end result is a fun-but-dated little film that has earned itself a cult following over the years.
Here's the extremely weird trailer for the film:
---
"Monsters vs. Aliens" (2009)
This 2009 animated film from Dreamworks was one of the best films of the year when it was released, and is right up there among the best CG-animated films of recent years. Just as the title implies, "Monsters vs Aliens" follows a group of government-sanctioned monsters (including a giant woman, a fish-ape hybrid, and a sentient blob, among others) as they try to take down an alien named Gallaxhar who wants to conquer Earth. Brilliant dialogue, a fun story, and superb animation make this one an instant classic in the "fighting off aliens" genre.
---
"Attack the Block" (2011)
From vikings and ninjas to rowdy street gangs, "Attack the Block" brings the battle against alien invaders to the blocks of South London. The film by first-time director Joe Cornish is currently earning rave reviews from every direction these days, and it only recently hit U.S. theaters. (It's in limited release, so you might need to do some hunting to find it.) The film follows a group of teenage thugs who try to protect their turf from the vicious aliens crash-landing all over town. With many calling it one of the best films of the year, "Attack the Block" offers a distinctly different — and exceptionally awesome — take on the alien invasion story.
What are your favorite alien-invasion movies? Chime in below or on Facebook or Twitter.