Coogan and Brydon are ready for another "Trip"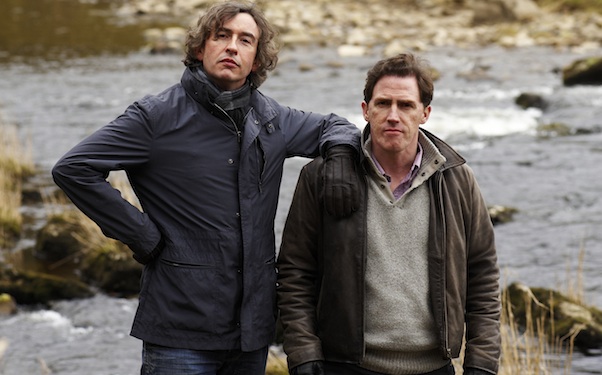 Posted by Matt Singer on
Get ready for some serious film nerd heresy: I think "The Trip" is the best of the three Michael Winterbottom/Steve Coogan collaborations. Yes, better than the meta madness of "Tristram Shandy: A Cock and Bull Story." Yes, even better than the cult classic "24 Hour Party People." I didn't write a review — it being an IFC Films release and all — but I think "The Trip" is one of the best movies of the year; consistently funny and brutally honest. When Winterbottom and Coogan get together, all is right in the world of movies. Throwing co-star Rob Brydon in there too is like the icing on the cake; a delicious, delicious cake of frustration and bitterness.
If you haven't seen it yet, "The Trip" is slight in concept and grand in execution. It's just Coogan and Brydon, playing fictionalized versions of themselves, on a restaurant tour of England. But their dinner conversations range from the hilarious — you might have seen the clip of their dueling Michael Caine impressions that went viral — to the piercingly self-analytical. The film works so well you'd never know it was edited down to feature length from a six episode television miniseries, which originally aired last year in the UK.
In movies they're called sequels, in TV they're called new seasons. But whatever you want to call it, The Playlist reports that Coogan and Brydon are currently planning another "Trip." At a Q&A at the Latitude Festival last weekend, "['The Trip' producer Andrew] Eaton revealed that a second series is currently being planned, which would involve Coogan and Brydon heading to Italy for another culinary tour."
This would be designed, like the first series, as a televisual journey. But with the cinematic "Trip" doing well in its US release — IFC Films' Ryan Werner just tweeted that the film has passed one million dollars at the box office — it looks like a second film could be cooking. I hope we get to see it.
And now, gentlemen to bed! For we write our next blog post at 2:30…ish.
Excited at the prospect of "The Trip 2?" Tell us in the comments below or on Facebook and Twitter!