Comic-Con: "Total Recall" police units stake out convention center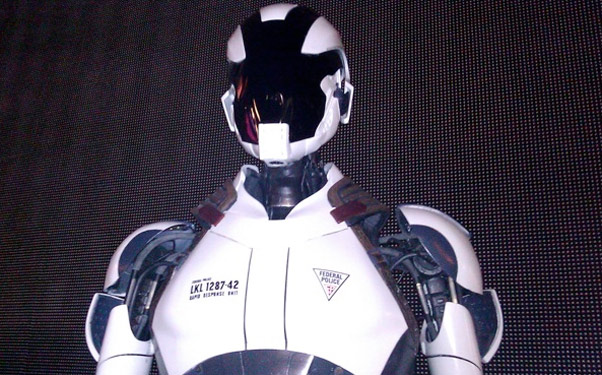 Posted by Rick Marshall on
Paul Verhoeven's 1990 film "Total Recall" offered up a shockingly violent adaptation of Philip K. Dick's story "We Can Remember It For You Wholesale," but it remains to be seen how faithfully Len Wiseman's upcoming take on the tale keeps to the source material. Thanks to some new photos snapped during this week's Comic-Con International in San Diego, we have our first indication of how Wiseman's version of the story will look on the big screen.
ComingSoon.net has snapped a few photos of the futuristic police vehicle and a pair of robotic law enforcement officers stationed across the street from the Comic-Con convention center. The site also snapped a few close-up photos of the "Federal Police" logo on the props, which are also emblazoned with the seal of the "United Federation of Britain."
In the now-filming remake of "Total Recall," Colin Farrell takes on the role of Douglas Quaid, the character played by Arnold Schwarzenegger in the original film. The tale finds Quaid caught up in a planet-spanning conspiracy after a decision to implant fabricated vacation memories in his brain awakens a new, violent personality.
Bryan Cranston will play the film's villain, with Bill Nighy, Kate Beckinsale, Jessica Biel, and John Cho also joining the cast.
Earlier this year, producer Neal Moritz indicated that Wiseman's version of "Total Recall" would stay closer to Dick's original story than the 1990 film, which famously had to work its way down from an "X" rating due to the level of violence in the initial cut.
"Total Recall" is expected to hit theaters August 3, 2012. Click on the image below to see more from ComingSoon's gallery.