Comic-Con: New "Avengers" posters feature Chris Hemsworth & Sam Jackson, plus first look at Cobie Smulders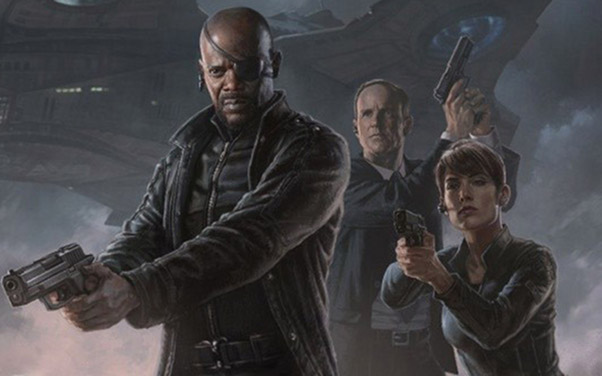 Posted by Rick Marshall on
Marvel continues to roll out promo posters for its upcoming superhero team-up extravaganza, "The Avengers," throughout this year's Comic-Con in San Diego. This time around, they've offered up a pair of images that focus on the Asgardian god-heroes Thor (Chris Hemsworth) and Odin (Anthony Hopkins), as well as the S.H.I.E.L.D. team of Nick Fury (Sam Jackson), Maria Hill (Cobie Smulders), and Agent Coulson (Clark Gregg).
It's interesting to note that the Thor poster also features a shot of the thunder god battling his half-brother Loki (Tom Hiddleston), who's expected to play a significant role in "The Avengers" after causing Thor all sorts of trouble in their solo film.
The other poster released during Comic-Con offers our first look at how Smulders will look as S.H.I.E.L.D. agent Maria Hill. The "How I Met Your Mother" actress is one of the prominent new additions to the Marvel movie universe in "Avengers," having not appeared in any of the solo films leading up to next year's big team-up project.
In the Marvel Comics universe, Hill serves as Fury's second-in-command at S.H.I.E.L.D., and has even served as the international peacekeeping agency's commander in Fury's absence.
While Smulders will make her debut as Hill in "Avengers," Jackson and Gregg have appeared as Nick Fury and Agent Coulson in multiple films prior to "The Avengers," and served as some of the primary connecting threads between all of the Marvel movies.
Marvel previously released posters featuring Scarlett Johansson as Black Widow, Jeremy Renner as Hawkeye, Chris Evans as Captain America, and Robert Downey Jr. as Iron Man. From the look of things, the posters all fit together into a wide banner, with one character remaining to reveal. (Mark Ruffalo as Hulk seems to be the obvious guess.)
"The Avengers" is scheduled to hit theaters May 4, 2012.
What do you think of the "Avengers" posters so far? Any favorites among the bunch? Chime in below or on Facebook or Twitter.