"Captain America" 101 – A brief guide to the WWII superhero and his supporting cast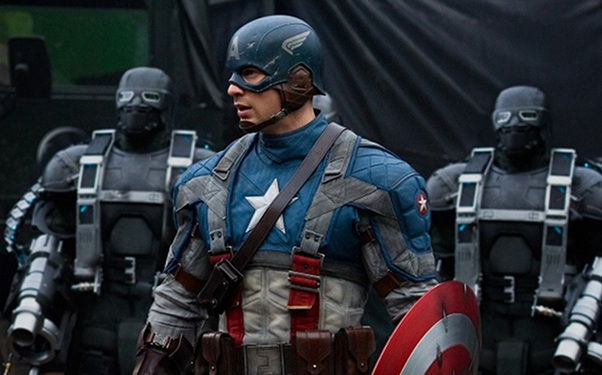 Posted by Rick Marshall on
"Captain America: The First Avenger" arrives in theaters this week, putting the story of Marvel's soldier-turned-superhero Steve Rogers in front of mainstream movie audiences. And while Captain America isn't exactly a b-list character, there's a good chance that some people buying tickets this weekend might not be all that familiar with the star-spangled hero and his supporting cast of allies and enemies.
With that in mind, we've put together a quick primer on the major players in the Captain America universe. Think of it as your very own comic book boot camp – just with fewer push-ups and more super-powers.
---
Captain America (Chris Evans)
Your classic 98-pound weakling, Brooklyn-born Steve Rogers tried to enlist during World War II but was turned down to his sickly stature. His refusal to give up caught the attention of military scientists, and he was given the chance to undergo an experimental treatment intended to give him utmost peak of human abilities. The experiment was successful, and along with helping the Allied Forces win the war, he went on to become the leader of one of Marvel's most powerful superhero teams, The Avengers.
---
Red Skull (Hugo Weaving)
One of Captain America's greatest enemies, Johann Schmidt served as Adolf Hitler's right-hand man in the Nazi regime and underwent a similar experiment as Steve Rogers. In the Marvel Comics universe, there have been several versions of Red Skull over the years, but Schmidt was by far the most dangerous of the bunch. Along with supervising the development of powerful Nazi weaponry and leading the terrorist organization HYDRA, he'll stop at nothing to secure any powerful items – whether scientific or magical – that will bring him closer to world domination.
---
James "Bucky" Barnes (Sebastian Stan)
In the Marvel Comics universe, Bucky was Captain America's sidekick throughout much of the war. In the upcoming film, the pair are significantly closer in age, with Bucky and Steve having known each other for years before the latter undergoes the super-soldier treatment. Nevertheless, Bucky remains Cap's closest friend and ally during the war.
---
Peggy Carter (Hayley Atwell)
One of Steve Rogers' first loves, Peggy Carter is a capable soldier who shows Captain America that war isn't just a job for men. In the upcoming film, the character is a British freedom fighter who fights alongside Cap and the Allied Forces.
---
The Howling Commandoes
An elite special unit of U.S. Army Rangers, the Howling Commandoes were a force to be reckoned with during World War II. Their ranks included former circus strongman "Dum Dum" Dugan (Neal McDonough) and a host of other characters, and in the Marvel Comics universe, they were led by Nick Fury. While Fury's role in the film is likely to be a little different, the Howling Commandoes appear to play a big role in supporting Captain America's efforts.
---
Which character are you most looking forward to seeing? Chime in below or on Facebook or Twitter.