"Captain America" and "Avengers" teaser: 5 things to look for in the new footage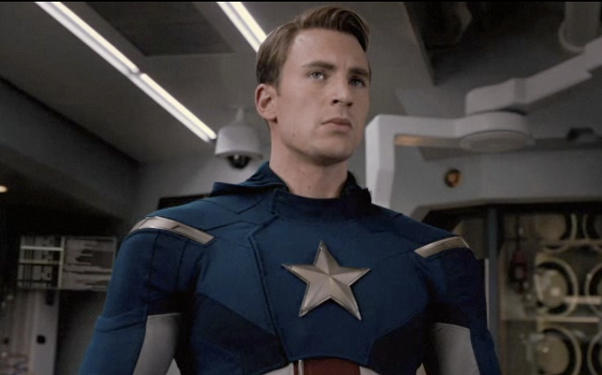 Posted by Rick Marshall on
Sure, the decision by Marvel Studios and Paramount Pictures to release footage from the final scene in "Captain America: The First Avenger" and the post-credits "Avengers" teaser has prompted no small amount of debate regarding the merits of revealing such spoiler-tastic elements, but why not put a positive spin on the situation?
When you watch the new clip that debuted on Yahoo Movies below, here are five things to look out for that make the clip, well… kind of awesome.
1. Steve Rogers' T-Shirt
The scene from "Captain America" shows Steve Rogers (Chris Evans) running through Manhattan, bewildered by how different everything looks. Check out the symbol on the chest of his t-shirt. As some fans have pointed out, it has a nice resemblance to the new symbol being worn by his comic-book counterpart (shown below). Even if it's not intentional, it's still a nice comic-movie connection to ponder.
---
2. Tony Stark Digs Black Sabbath
In the "Avengers" teaser, one of the images that flits by is a shot of Tony Stark (Robert Downey Jr.) wearing a Black Sabbath t-shirt. This is a nice little nod to the band and their song "Iron Man," which was used in the first "Iron Man" movie.
---
3. Captain America's New Costume
Another image that passes by quickly is a shot of Captain America in his new, modern-era costume (pictured at the top of this article). We got an early peek at the costume via some Comic-Con promo art, but this is a nice look at the upper half of the suit actually being worn by Evans.
---
4. The God Of Thunder Gets A Wardrobe Change
While not as obvious as Captain America's costume change, Thor (Chris Hemsworth) also appears to have received a tweak or two to his costume in the time since his solo movie. There are a few subtle changes in the costume that will require some pause-and-study reflection, so get your clicking finger ready.
---
5. The Snark
Okay, this one is right there and in the open, but it's still worth calling out. Everyone is wondering whether Joss Whedon's knack for dialogue and Robert Downey Jr.'s ad-libbing will mesh well in "Avengers," and we got our first, ever-so-brief preview in the teaser when Tony tells Thor, "You've got a mean swing."
What did you think of the footage? How about the decision to release it? Chime in below or on Facebook or Twitter.