"Bunraku" trailer promises a world of cowboys & samurai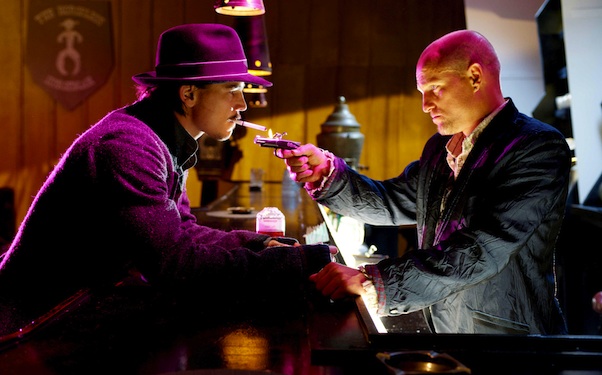 Posted by Matt Singer on
"Gangbusters, a cowboy, in a world without guns, and a samurai with no sword team up to defeat a common evil."
It sounds so simple when you put it that way. Those are the opening expository lines of the trailer to "Bunraku," the freaky deaky looking upcoming gangbusters & cowboys & samurai mashup movie starring Josh hartnett, Woody Harrelson and the very busy Demi Moore (she's also in the "Margin Call" trailer we brought you yesterday). On a side note: Moore would have been great lead for a female James Bond-type movie, just as long as the character's name was something like Angelina Less. And then the tagline could have been "MOORE. IS. LESS." That's a guaranteed hit.
The tagline for "Bunraku"'s a little longer: "They'll risk everything for honor, for power, for justice, for love, for revenge." So basically they'll risk everything for everything. Kinda feels like movie overload: every kind of cinematic action archetype with every kind of motivation. It's the "ubermovie." I think Nietzsche wrote about that in "Thus Spoke Zarathustra."
Here's the trailer:
"Bunraku" played last year's Fantastic Fest where, admittedly, it didn't receive glowing reviews (Film School Rejects called it "rather boring with no real standout action sequences, no memorable quotes, no emotional investment in any of the characters and no funny moments"). I'm still curious if only for that unique blend of genres, the impressive looking fight scenes, and the production design, which looks like "Sucker Punch" by way of a samurai-themed shopping mall. With all that, how can you not be curious? Ubermovies come along so rarely.
"Bunraku" will be available on VOD on September 1 and opens in limited release on September 30. Psyched to see it? Tell us in the comments below or on Facebook and Twitter.