Clip Analysis: "BioShock Infinite" E3 2011 demo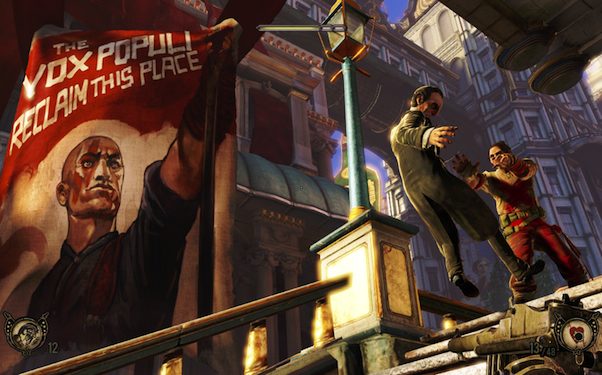 Posted by Evan Narcisse on
Video game teasers tend to stick to a certain formula: dazzle the viewer with awesome graphics, show off some of the games' abilities and maybe dribble a little story out to tantalize would-be players. But every so often, one piece of video-centric marketing will float above the rest or sink to join the sludge.
In Clip Analysis, I'll be looking at trailers, teasers and just about any game-related video in an effort to call out what works and what doesn't in terms of communicating a particular game's coolness.
This time, I'll be taking a look at the E3 2011 demo for "BioShock Infinite."
Video games don't go in for a lot of historical allusions. For every "Red Dead Redemption" that looks back at American history and tries to capture the essences of past times, there's another sci-fi epic trying to either crib or be different from "Gears of War," Halo" or "Mass Effect."
In development by Irrational Games, "BioShock Infinite" looks to chart a different path. I've already talked about the trailers teasing the story and showing off the flying city of Columbia and you can read my interviews with Irrational's Tim Gerritsen and Ken Levine on IFC News as well. Irrational Games unveiled a new demo which blew folks' minds at E3 last month. That demo is now available for all to see and demonstrates why the new "BioShock" has gamers everywhere counting down the days until it comes out.
I think part of the power that "BioShock Infinite" wields is the idea of American exceptionalism gone awry. Unveiled at the 1900 World's Fair, Columbia starts out as symbol of American power and ingenuity but becomes its own rogue state when it intervenes on the Boxer Rebellion at the turn of the 20th Century. With that act, the whole world learned that Columbia was carrying massive armaments that make it essentially a Beaux Arts Death Star, leading the U.S. to severs ties with Columbia. In the game's alternate history, the gravity-defying metropolis floats around above the skies with the threat of imposing its will on earthbound nations.
However, the action in the E3 demo clip shows that Columbia's at war with itself, too. Lead character Booker DeWitt and Elizabeth–the girl he's charged with rescuing–walk into a wholesale slaughter being committed by the Vox Populi, a proletariat militia sworn to kill the fat cats who they say are exploiting the common man. The Vox battles against Columbia's patrician Founders, who want to maintain the status quo.
The character of Elizabeth going to be the linchpin around which "Infinite" turns. She's a gameplay partner and a plot element but has a character arc all her own. After Booker's freed her from captivity, you can see that she's a bit naïve and inexperienced in the ways of the outside world, but it's clear that she wants freedom more than life itself. Elizabeth mysteriously has the power to manipulate "tears," which are rips in the space-time continuum. As a brief glimpse into 1985–complete with "Return of the Jedi" on a movie theater marquee–shows, she can't always control the rolling back of time. But, per Levine, she'll be able to open smaller tears to let players access paths, weapons and resources. But there's no escaping the ominous Songbird, who appears to share a bond with Elizabeth that's more than just hunter and prey.
The sky-lines make Columbia feel like an amusement park of death, complete with giant dirigible airships armed to the teeth. Yet, even as the bullets fly and the extradimensional portals open, "BioShock Infinite" gestures at history and offers insight into human behavior without feeling a rote regurgitation of facile tropes. You're going to be playing inside the ethical dissolution of a closed society, with the future of a nearly innocent young woman at stake. Most ambitiously, neither of the warring factions will be portrayed as good or evil. Instead, Levine and crew hope to impart a sense of curdled idealism behind the conflict. If "BioShock Infinite" manages to pull all of this together, then it'll join the first "BioShock" as a game that shows the best of what modern video games has to offer.
Are you psyched after watching the E3 2011 demo of "BioShock Infinite"? Let us know in the comments below or on Facebook or Twitter.