Interview: Billy Corgan and the Fool's journey (pt. 2)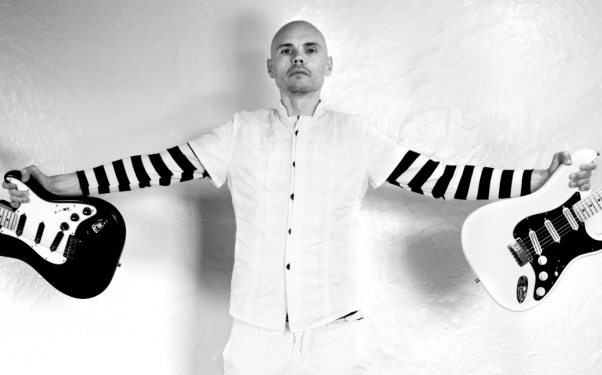 Posted by Brandon Kim on
Part one of this interview with Billy Corgan where he discusses finding spirituality, misogyny in female wrestling, and Kareem Abdul-Jabbar.can be found here.
What about the idea of the band, what's changed?
In essence the band isn't a real thing anymore. I mean, we work as a band, but much of the public doesn't accept that it's a band because it no longer falls into the traditional model — the four people who rode around in a van. Of course that was a true story, the four of us did ride around in a van and became successful. But I treat it more as a collective now, the band means more as a symbol than a literal thing. I'm tired of trying to sell people on the literal thing because that falls into an old way of thinking which isn't really relevant anymore. Where is this great love for rock and roll that existed for 50 or 60 years? The world's changing so fast and if you look at most artistic constructs within the music business people work together for one album, two albums, and then they move on to some other collaboration. That's more emblematic of what life is like. We're lucky if we can find a partnership that can last 10, 20 years in any regard, beyond our family. We're holding on to an old idea of what the band family looks like, but the way people actually live is probably closer to something like Arcade Fire, more of a collective mentality.
Everything is changing at light speed, unrecognizable from 50 years ago.
Yeah, the thing I've learned over the last four or five years since coming back to the Smashing Pumpkins, is that; is there a person named Billy Corgan, or William Patrick Corgan? Yes. Does it matter if he exists or doesn't exist? No. Because in a weird kind of way I exist whether or not I choose to because people can google me and listen or watch all these things I've already done. It's more the act of creation than trying to uphold a symbolic partnership that hasn't existed since…
It was simpler in the 90's wasn't it? Toil on a critically acclaimed record, follow up with another, releasing a happy sounding song that plays on MTV in wild colors and the four of you singing in an ice cream truck, and overnight, you're cultural Gods.
We also existed at a time where that system was ending. In the heyday of the 90's, MTV, million dollar videos, no one new that in five to seven years the music business was going to implode. That was the end of that. So everyone was living within that paradigm and the game was, can you work and exploit and prosper within it? Since that paradigm has fallen apart no one's replaced it with anything. They continue to beat the dead horse and diminished sales. CNN headlines about how few records Lady Gaga is selling. But if you look at an artist like Lady Gaga, who's very successful on many levels, does it really matter anymore whether she sells records? Her influence is so huge as a cultural icon, I would say it doesn't really matter. I'm sure it matters to her, and it would matter to me, but my point is the old markers of what used to matter, don't matter. Is it more important that Lady Gaga sells 100,000 CD's or that she gets 3 million web hits on an article? I would say it's more important that she gets the web hits, because that will get her a perfume line, or whatever.
Yeah, a perfume line, that's a big one.
All those dynamics are shifting. Rock and Roll is still asking people like me to live up to the old guard's concept of what success is but it doesn't mean anything. You can still do it, but everybody exists in a bubble.
So why bother to go through all this work putting out a record like "Oceania?"
Because I want to.
Do you still believe in the album as an art form?
No, not at all [laughs]. No I don't. But it pushes me. It pushes me to do something I wouldn't do without it. Do I believe that people are going to sit and listen to the whole thing and really glean something out of it? No. What indication in the culture would I have to think the average person is going to listen to this 10 times? My only hope would be that I do something so extraordinary that they would be compelled to listen to it more than once or twice. But, for me, it's a personal journey to push myself into a space that I thought I'd walked away from.
There are people who will really listen to it. I remember when "Siamese Dream" came out, it was a huge event, you guys had a style and influence that's immeasurable, you affected people's worldviews, and none of that could have happened without the integrity of that album. People still want that. Although, I had an ex-girlfriend remark to me sometime in the late 90's that she could no longer stand to listen to the Pumpkins anymore because it reminded her too much of us [laughter].
The funny thing is there still is that world of me, but it's the tree falls in the forest. Does it matter if it falls if no one hears it? I mean my point as an artist is I'm on my own little weird journey across the sky here and whether or not anybody's listening, or listening to the degree I would like them to, at the end of the day has to be an inconsequential thing because I can't chase this culture. It's the wild west out here. We made the video for "Owata," but can anyone say if it's going to change anything? Does it need a million YouTube views to be worthy of something? Does it need to be recognized via this interview? All you can do, is just do what you believe in, and hope that in this convoluted world we're living in via social media that the right people will come across it and it will influence them in the right ways. If I go on YouTube and see a count of 42,000 views, but those 42,000 people are idiots than it doesn't mean anything. Because those idiots won't turn around and do anything about it, they won't make anything from it, they won't create their own art. They might go on a website and say it sucks, but will it change anything, change them, make them more politically active? Will it make them go to a wrestling show or a Smashing Pumpkins show? What if only 3,000 people saw it, but all of them were really inspired to make their own video? That's old thing about the Velvet Underground.
Right, only a thousand people ever saw them, but each of them went off and started a band.
Yeah, they didn't sell any records back in the day, but they're one of the most influential bands in the history of rock and roll because everyone who listened to them were inspired. My band's had a big influence, you know, but it depends on who you read. This culture writer guy says I suck and I'm an idiot, but you talk to a musician who started a band because he saw me in concert — which is more valuable? Well, it depends on who you talk to. All I can go on is my own value system. All the other value systems I grew up counting on, record sales, Rolling Stone reviews, those have essentially disintegrated into meaninglessness. Who can count on the credibility of what anybody's saying anymore because everybody's in business for themselves… to use a wrestling term.
Nice, back to the beginning.
And there's nothing wrong with it. It's like going into a market in Istanbul. There's a thousand people screaming, "hey hey hey, hey, come in here! Buy this cup." Well, okay. We're all on the street corner screaming. The idiots get rewarded just for screaming louder. But there are artists out there making credible work, trying to do something different and new. With "Owata" we tried to do something different and not repeat something that's been done a thousand times. Whether it's successful or not we can't gauge in this paradigm. It's going to take ten years to look back and say, "yeah that's a total piece of shit, what the fuck were we doing?" Or "actually that was pretty cool." There are obvious home runs, but there's lots of other things we do as artists that aren't recognized. The general public only cares about the obvious thing, but that's not what I live for as an artist…[long pause]. Rock and roll, that's what we say.
[Laughs] What film soundtrack or score has made an impact on you?
I think the great scores are those that enhance the movie and then you want to listen to them as works of art in themselves. So you think of people like Bernard Herman. Or Morricone. Your like, "what the fuck is this music!" And you want to listen to it because it's so perfect. My complaint about music in the movie business these days is they've kind of gotten rid of that guy. With all respect to Danny Elfman, who's maybe the most recognizable auteur, there's a lot of guys — it's just paint by numbers music. You don't see as much unique musical contribution to film these days, it's disappointing. I've tried to get some projects started because I'd love to [do it myself].
What director would you want to work with?
At one point I almost worked with Darren Aronofsky. It didn't work out, but it was nothing bad, just didn't happen. I'd love to work with him because I think he really gets it, music wise. Scorsese. I don't think he knows I exist, but he has such an incredibly intuitive understanding of how to put music in film.
I think about that scene in "Mean Streets" with Harvey Keitel all the time, where the camera is fixed to him as he rolls into the bar and the Rolling Stones are playing, it's magic.
Yeah, that's what I'm saying, I mean as a musician, I die for that moment. It just doesn't get any better than that. I would also love to just sit and listen to him break down a scene from his perspective. And Tarantino too.
What film would you live inside of, if you could?
I've been living in the film "Andrei Rublev" by [Andrei ] Tarkovsky for about 15 years [laughs]. It's a beautiful film about art, about being an artist. It's set in, you know, 1600's Russia, or sometime equally bleak. Have you watched much Tarkovsky?
Oh yeah, just not that film in particular. I found I needed to set aside some serious mental space in order to cope with his films.
[Laughs] Yeah, that's exactly what I love about him.
Will you listen to the whole album? Let us know in the comments below or on Twitter or Facebook!