Interview: Billy Corgan and the Fool's journey (pt. 1)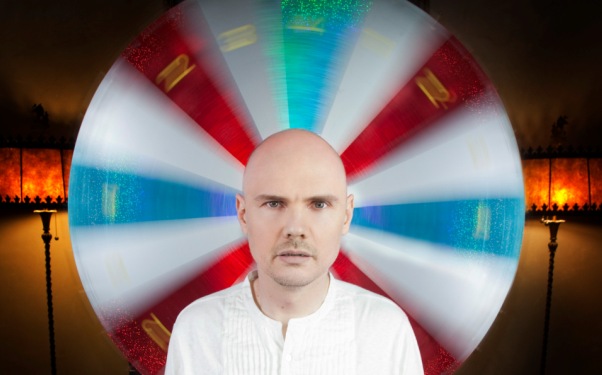 Posted by Brandon Kim on
In Tarot, the Fool represents infinite possibility, new beginnings, and the often naive exuberance one may feel setting off, wide-eyed, on life's path. He is a pleasant figure, much more so than the contemporary meaning of the name implies, or what rumor may sometimes suggest. The Fool's journey is one of discovery and delight. Freed from caution and convention, he passionately pursues the path that he chooses. He does what you, indeed what many, may not always have the courage or disposition to do, he follows his heart — or as Joseph Cambell, popular purveyor of the kindred, Hero's journey once advised, the Fool might say "follow your bliss."
Billy Corgan once followed his bliss, but then the world changed, the album died, his band broke up and we were left with rumors about him snorting sea monkeys with Marilyn Manson. But Corgan is back, and in December 2009 The Smashing Pumpkins began releasing "Teargarden By Kaleidyscope," a colossal 44-song work being put out piecemeal for free online first and as a collection of EP's. The Pumpkins' upcoming album within an album, "Oceania," is part of this larger work, which Corgan has described as harkening back to the band's "original psychedelic roots." I talked to him about this new incarnation of the Pumpkins and a short film/music video they did with director Robby Starbuck for the song "Owata." Our conversation took some heavy turns into his views on spirituality, the world of female wrestling, and the films of Andrei Tarkovsky. As such, this is only part one, part two is here.
You've said Teargarden By Kaleidyscope" is about "The Fool's Journey." Are you willing to play the fool?
Well, all rock and roll is based in artifice. The Ramones were not really the Ramones 24-hours a day. Nor were the Stooges, or even the Beatles. What most people do is try to find a comfortable persona that they're in alignment with and the public likes and appreciates them for. In my case I don't mind playing a character that irritates people or makes people question my sanity.
Do you think you've been stuck as a kind of character in the public's mind, or perhaps a different one at different points in time, the Billy Corgan of "Siamese Dream," the Billy Corgan of "Oceania," is that something you're conscious of?
Yeah, but it doesn't mean anything. You know?
Well, where do you find yourself now, spiritually speaking?
What's surprised me about having a consciousness about spirituality or a relationship to, let's call it a higher power, is that it's a multi-dimensional shift. It's not one singular destination and I think that does relate to the Fool's journey in that sense. You're not gonna conquer yourself, you're not gonna understand God by sort of, one thing. You're not gonna figure it out by praying. You're not gonna figure it out by charity. You're not gonna figure it out by throwing yourself off a roof and you're not gonna figure it out by sitting on a mountain. You have to figure it all out, and that's sort of the point, I think. So if you're asking where I'm at in my spirituality, I think I'm in a good place, a balance where I have a deeper understanding of myself spiritually, but I'm also more invested in my life. Where for a time, I had a hard time understanding how life could be spiritual. Or being in a very materialistic culture like America, being in a very materialistic business like the music business, it was very hard for me to understand how I could be a spiritual person and still be successful. They seemed counterintuitive to each other and now, I'm at a point now where I don't see it that way.
That's wonderful…
Which brings us to the short film [laughs].
Yes for "Owata," shot on the Red Epic camera, which may be a first for a music video — and this isn't the first time you've been associated with wrestling.
No, my public relationship with wrestling goes back to I think,'99. I was doing stuff with a promotion called ECW out of Philadelphia.
Why now and why female wrestlers?
I'd wanted to do something to do with wrestling for a while. Wrestling has a very fascinating subculture. Most people don't know that wrestling came out of the circus. I got very disappointed with rock and roll as a subculture in the '90s when I, sort of felt like I wasn't having a good time with it. It ceased to be something of fascination for me. I found, somewhere along the way, that I could find the same enjoyment out of this subculture in wrestling, that used to find rock and roll. The same kind of mythic aspects to it without I having to be personally related to me. And then, over time, I got to know people in the wrestling business, and became friends. The lead in the "Owata" video, Melissa — the babyface, the girl in the silver outfit who wins the match — she's a friend of mine. We were in Vegas, got to talking about how we should do this video I've had an idea for, and that was the birth of the whole thing.
Tell me about the misogynistic themes running through it with the male character, you just want to shove your fist in his mouth.
He's good at that [laughs]. Yeah there's a tremendous amount of misogyny in the wrestling business. There's a movement just like there was in the alternative music culture. There's a movement within wrestling that women want to be respected athletically, physically the same way that the men are. They don't just want to be cheesecake, tits and ass. They actually want to be recognized for being athletes who have a skill and a craft. You have a similar thing that you've seen in many subcultures politically where women are stepping forward and saying, hey, "We're just not going to accept the role we're handed to by men. So I was fascinated by that because it reminded me of what we went through with the Pumpkins in the beginning, because we had a woman on bass. I mean we were constantly questioned like as if she was just a prop on stage, giving no credit at all to her craft, the hours that we spent, the travel, everything. It was just like we hired some, you know, model to stand on stage because it would help us sell records. It was very offensive to her and to the band.
Were you into the old school wrestlers like Rowdy Roddy and Andre the Giant back in the day?
Oh yeah, and even earlier than that. Like the wrestlers out of Chicago, Dick the Bruiser, Baron von Rashke, who had a Nazi gimmick, hard to imagine anybody doing that now.
There's also this Pumpkins clip with Kareem Abdul-Jabbar floating around — whom I once had the pleasure of sitting behind on airplane. I've never seen a man make an airplane look small before [laughter]. How did you two hook up?
Actually my best friend, who also hooked me up with Robby [and the"Owata"] video, he met Kareem at Bonnaroo. They became friendly and it was Kareem's idea! I think that's really the world we're entering into, people working together to draw attention to what people have to say. I was really excited to work with someone I really respect. You know, it was a small thing but, it really meant a lot to me.
Wrestling, basketball legends, you're doing a lot of cross promotion. You're also giving all the songs completely for free [digitally] on this release. What do you think about the state of the music industry, what's your strategy?
99% of the people in the music business now don't have the resources to properly market their music. So if you're gonna market yourself you have to figure out how. We're trying to do it with a wink and a nod. But you have to figure out how to generate energy. You have to register some level of creative integrity. The Pumpkins, as a business, is a creative enterprise that's constantly generating new waves of energy, through music, through cultural fucking-with… through the Tarot [laughter].
In part 2, Billy talks about Lady Gaga, the death of the album as an art form, and the films of Andrei Tarkovsky. Read it here!
Are you a fool for the Pumpkins? Let us know in the comments below or on Twitter or Facebook!