First "Battleship" trailer brings the oceanic alien spaceship action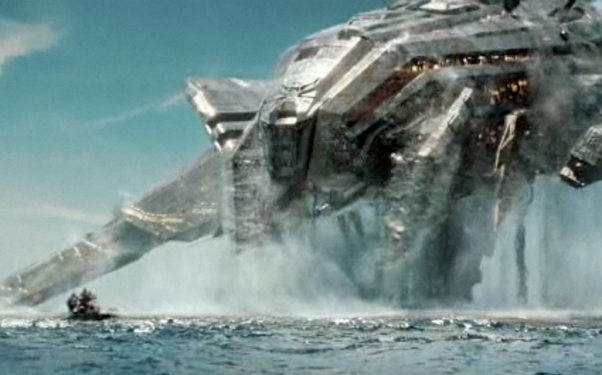 Posted by Rick Marshall on
The first trailer for "Battleship" has finally arrived online, and it's chock full of all the explosive, CGI action that we've been led to believe the 2012 film will feature.
Based on the Hasbro naval combat game of the same name, "Battleship" is directed by Peter Berg ("Hancock") and stars a long list of young Hollywood stars… and Liam Neeson. The effects-heavy blockbuster follows the crews of several U.S. Navy battleships who encounter an armada of alien spacecraft in the ocean and must out-maneuver, out-think, and out-gun the invaders to save the world.
The first trailer for the project puts the spotlight on star Taylor Kitsch, who plays bad-boy Naval officer Alex Hopper, with some screen time also allotted to co-stars Brooklyn Decker, Alexander Skarsgard, and of course, Neeson. Decker plays Hopper's fiancee, while Skarsgard plays his older brother, Stone Hopper. Neeson plays Admiral Shane, the father of Decker's character and Hopper's commanding officer.
Even so, the real focus of the trailer is the alien ship that Hopper and his crewmates discover in the open sea.
After touching the craft and being thrown backward into the water, Hopper watches as the craft performs a "Transformers"-like shift into another form, then returns to the ocean alongside a few more craft just like it. An aerial shot of the resulting scene offers a nice nod to the classic "Battleship" game layout, with two armadas of ships facing off against each other amid a wide, oceanic battlefield.
Along with the aforementioned cast, "Battleship" also stars Josh Pence as Chief Moore and Rihanna as Lt. Raikes, Hopper's crewmate and a weapons specialist on the U.S.S. John Paul Jones.
"Battleship" hits theaters May 18, 2012.
What did you think of the "Battleship" trailer? Chime in below or on Facebook or Twitter.