Comic-Con: Waugh! The Penguin blasts into "Batman: Arkham City"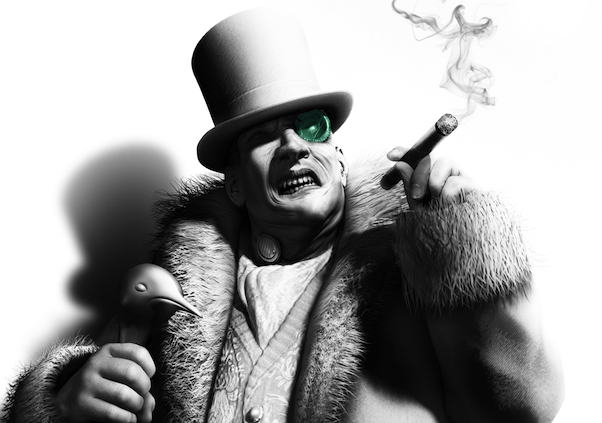 Posted by Evan Narcisse on
When it comes to Bat-villains, Oswald Chesterfield Cobblepot's always been the runt of the litter. Mention the Penguin as an actual threat to the Caped Crusader and you're liable to get laughed out of the room. Funny? Sure. Grotesquese? Yeah, especially in Tim Burton's "Batman Returns." But the potbellied miscreant hasn't really been an A-lister in the Bat's Rogues Gallery since things went darker for Batman in the late '80s. "Arkham City" may change that perception.
video player loading
.
.
.
The interpretation seen in the trailer presents Cobblepot as a Cockney-accented crimelord who's smoked too many cigarettes. This version of Penguin builds off his latter-day reinvention as a 'legitimate businessman' who's really an underworld power broker. The Iceberg Lounge, the nightclub that serves as his power base, shows up in the trailer as well as an army of nasty thugs and jacked-up umbrella weapons. And if he's able to keep super-strong bad guy Solomon Grundy–who we all remember from "Superfriends," right?–on a leash, maybe it's time to stop laughing at Penguin.
And, in non-flightless bird news, Batman's baby mama Talia Al Ghul–also the daughter of archenemy Ra's Al Ghul–will also appearing in the game, with voicework courtesy of Stana Katic from "Castle."
"Batman: Arkham City" comes out on October 18th.
Which other Bat-villains do you want to show up in "Arkham City"? Let us know in the comments below or on Facebook or Twitter.