A baseball movie All-Star team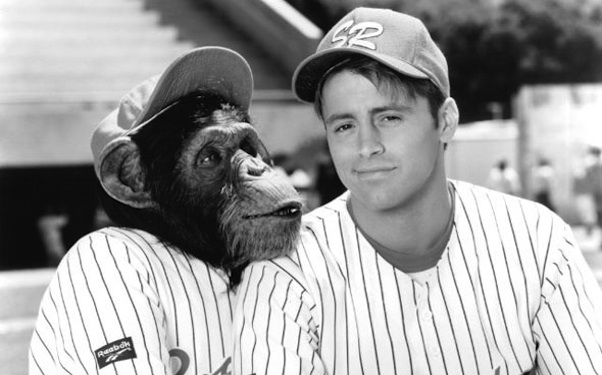 Posted by Matt Singer on
Tonight is baseball's annual All-Star game and to honor the occasion The Wall Street Journal put together their own all-star team, a sort of fantasy fantasy baseball roster: the greatest fictional ball players in movie history.
You should go over and check out WSJ.com for the whole roster but I'll say this for the piece's author, the aptly named Jared Diamond: he put together a team with very few holes. There are obvious movie ball players that jump to mind: of course Ricky "Wild Thing" Vaughn (Charlie Sheen) will be the movie All-Stars' closer; of course Roy Hobbs (Robert Redford) from "The Natural" will be in left field. But Diamond didn't forget the obscure choices either. He's got the legendary Benny "The Jet" Rodriguez (Mike Vitar) from "The Sandlot," and he even put the titular monkey from Matt LeBlanc's "Ed" as a utility player on the bench. Smart move: "Ed" may be one of the most hideous family movies ever committed to celluloid, but goddamn that monkey had a rocket for an arm.
Billy Chapel (Kevin Costner) from "For Love of the Game," Jack Elliot (Tom Selleck) from "Mr. Baseball," Henry Rowengartner (Thomas Ian Nicholas) from "Rookie of the Year," they're all here. I love baseball and I love baseball movies; a few years ago, I wrote a whole week's worth of articles about real-life baseball All-Stars playing themselves onscreen. I could only think of one player who got snubbed: Bernie Mac's Stan Ross from "Mr. 3000." Granted, the Ross of the film is all washed up. But assuming we can get the Stan Ross of his prime — and since you'd only want a guy like Benny "The Jet" Rodriguez if you could have the version that became a sensation for the L.A. Dodgers after the events in the film — he's an easy choice. The man had (almost) 3,000 hits and he's a guaranteed hall of famer. I'd want him on the bench as my backup first baseman over Kelly Leak (Jackie Earle Haley) from "The Bad News Bears" who is a great player but is, all things considered, a little kid.
The real question is: are the movie All-Stars good enough to take on the real All-Stars? I'm not so sure. We've got a few children on here and, yeah, at least one monkey. Then again, it seems like half of the Major League All-Stars selected this year are too injured to play. Maybe they've got a shot. And if Enrico Pallazzo (a.k.a. Leslie Nielsen's Frank Drebin from "The Naked Gun") is umpiring the game as per Diamond's excellent suggestion, anything is possible.
Who's missing from the Movie All-Star Team? Tell us in the comments below or on Facebook and Twitter!