Baltimore's Hampden is "Young Broke & Beautiful"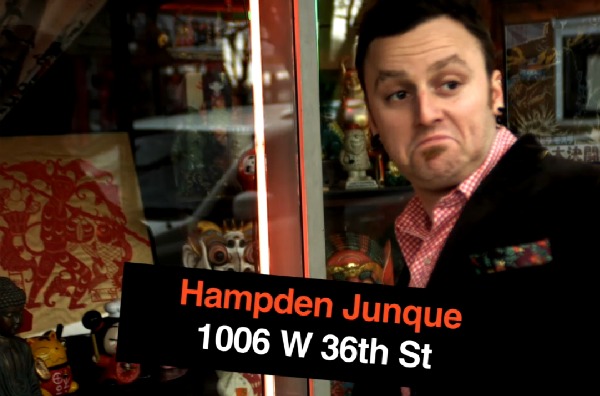 Posted by Melissa Locker on
Across this great country of ours (we're still feeling patriotic after our 4th of July celebrations) there are cities, neighborhoods, and stores that are universally cool. They are those spots that you walk in and simply say, "Wow." or "I want that. And that. And that." However, the United States is obese large and reaches from the Redwood forests to the Gulf Stream waters and these amazing places are spread out from sea to shining sea. How are we supposed to plug their locations into our GPS if we don't know where they are? Luckily for us lazy folk, Stuart Schuffman a.k.a. Broke-Ass Stuart is out and about and unearthing these hidden gems of quirky coolness wherever they may hide, be it hamlet …or Hampden.
The Hampden neighborhood of Baltimore, Maryland is a charmingly offbeat oasis within the city's urban limits. Its streets are dotted with well decorated lawns littered with gnomes, ceramic deer and more than a handful of pink flamingos. In fact, John Waters was so struck by the non-ironic kitsch of the community that he based many of his films there, including naturally "Pink Flamingos." In an upcoming episode of "Young, Broke & Beautiful," our intrepid guide, Broke-Ass Stuart, wanders into one of the shops that helps give the neighborhood its vintage vibe, Hampden Junque.
video player loading
.
.
.

New episodes of "Young, Broke & Beautiful" airs on IFC on Fridays at 11 p.m. ET/ 10 p.m. CT