The most awkward sex scenes in movies (with video)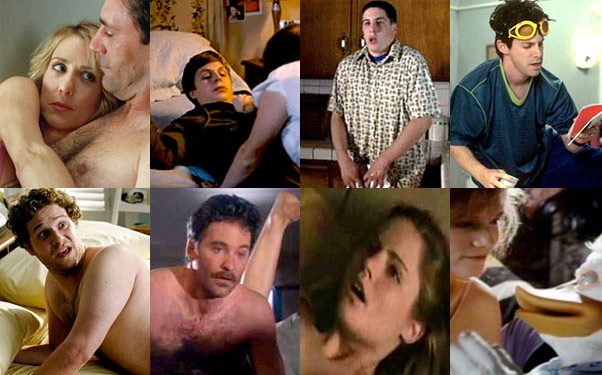 Posted by IFC on
Nothing can reach the heights (or is it depths?) of awkwardness quite like sex. Here are 11 such embarrassing moments in cinema, from the near-bestiality of "Howard the Duck" to Jason Biggs getting intimate with his mother's baked goods in "American Pie" to the endless pounding (and yammering) of "Bridesmaids." Never before has a turn-on seemed so… off.
---
Howard the Duck (1986)
A film so appallingly misguided that we're still waiting for it to be revealed as one big put-upon in the first place (kind of like producer George Lucas' later "Star Wars" prequels), "Howard the Duck" reaches its lowest low with the would-be sex scene between Cleve-Land rocker chick Lea Thompson and a wisecracking, cigar-chomping alien duck. "Would-be" is enough to send anyone over the edge in this particular situation, though, as it dares to go beyond "Wrong" territory and into borderline bestiality — complete with a few seductive eyebrow-raises from the duck himself. Both fortunately and unfortunately in equal measures, Howard stops Lea before she gets completely naked, suddenly becoming possessed by the audience's discomfort and outrage and putting a stop to all this before it goes completely batshit insane. Whew, that was close! "Howard, you really are the worst!" says Thompson at one point. Yeah.
---
Knocked Up (2007)
Having "pregnant sex" has its physical and practical challenges, and "Knocked Up" doesn't shy away from really getting into the sordid details. The first attempted sexual position between Ben (Seth Rogen) and Alison (Katherine Heigl) has her on her back and him on top — "Just do it!" she exclaims, frustrated, but Ben can't shake the image of his penis poking their unborn child in the face. Their next attempted position has him on his back and her riding him, but she quickly becomes self-conscious: "I know I look gross… my boobs are all mushy, it's all like National Geographic." The third and final attempted position has them on their sides and him doing her from behind; this looks like it might be the answer to all their problems — until he freaks out about feeling the baby kick. "It was a bad kick!" he exclaims, and again goes back to not being able to shake the image of poking the poor kid in the face with his cock. Thank you, Judd Apatow, for showing us the true consequences of a drunken one-night-stand.
---
Superbad (2007)
The somewhat harrowing sex scene between Becca (Martha MacIsaac) and Evan (Michael Cera) in "Superbad" is a classic example of your first time not being anywhere near how you imagined it would be. Becca is way drunk, and her attempts to arouse her partner with (rather adorable) "dirty talk" just aren't working. "I'm so wet," she whispers, to which he responds, "Yeah, they said that would happen… in Health…" It goes on like that for a while: Becca says something she thinks is going to turn the highly dubious scenario into a rousing session of writhing passion, and Evan counters with some sort of nervous hesitation. "I am going to give you the best Blow-J ever… with my mouth!" she squeals; "Why don't we just kiss a lot?" he responds. "You have such a smooth cock," she giggles; "Thank you, you would, too, if you were a man… " This is a truly funny and ultimately heartbreaking scene that ends with her vomiting all over the damn place.
---
Can't Hardly Wait (1998)
"Yo, I gotta have sex tonight!" So proclaims Kenny Fisher (Seth Green), aka Special K, a wannabe hip hop artist who vows to lose his virginity at the hottest high school graduation party in town. He's armed and prepared for the endeavor with "The Love Kit," a backpack full of sexual assists and enhancements, including but not limited to a "'Fragrance of Love'-scented candle, bitch! Damn." Once at the party, Kenny retreats to the bathroom to "get ready" — unfortunately, his warm-up exercises inspired by the writings of the Kama Sutra (another accessory of The Love Kit) lead to an unexpected case of "premature evacuation." As he struggles to clean up the mess, Denise (Lauren Ambrose), who just had a brownie thrown at her face, enters the bathroom, catches sight of him and… well, this awkward moment becomes even more awkward after the handle on the bathroom door breaks off, locking them both in. They eventually have sex in the bathroom, though, so what started off as a train wreck turned into a home run, didn't it?
---
American Pie (1999)
Jim: Guys, uh, what exactly does third base feel like?
Kevin: You want to take this one?
Chris "Oz" Ostreicher: Like warm apple pie.
Jim: Yeah?
Chris "Oz" Ostreicher: Yeah.
Jim: Apple pie, huh?
Chris "Oz" Ostreicher: Uh huh.
Jim: McDonald's or homemade?
And you know what happens after that. One of the most bizarre images ever put to film — a teenage boy pleasuring himself with his mother's homemade apple pie — actually leads to a touching scene of father-son bonding, as Jim's Dad tries to turn the beyond embarrassing moment into an opportunity to talk man-to-man about this sort of stuff. "I have to admit, you know, I did the fair bit of… masturbating when I was a little younger. I used to call it stroking the salami, yeah, you know, pounding the old pud. I never did it with baked goods, but you know your Uncle Mort, he pets the one-eyed snake five to six times a day!" Leave it to Jim's Dad to try to make the most of such a situation. Yeah, this bit of cinematic sexual deviance seems rather tame today, but back in 1999, oh boy was it a doozy.
---