Comic-Con: Marvel unveils "Avengers" posters showcasing Scarlett Johansson and Jeremy Renner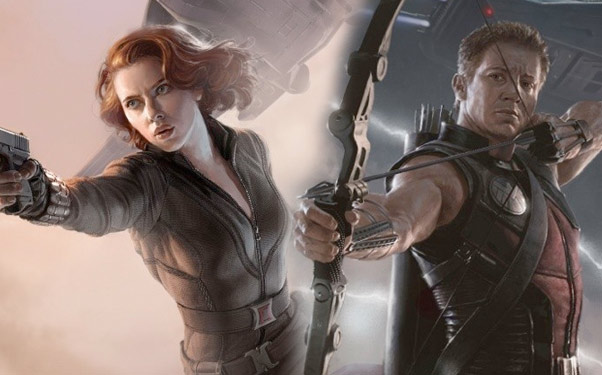 Posted by IFC on
Those lucky fans attending the San Diego Comic-Con now have the opportunity to snag two exclusive posters depicting Black Widow (as played by Scarlett Johansson) and Hawkeye (as played by Jeremy Renner) as they will appear in "The Avengers," Marvel's 2012 summer blockbuster from director Joss Whedon. Both characters have already been featured in background roles in "Iron Man 2" and "Thor" respectively, but "The Avengers" will finally bring them in to the main arena of superhero action.
Long-time fans of the Avengers should not be disappointed by the way either character has turned out. Marvel has a pretty decent track record of transitioning their characters from illustration to live-action, and these two heroes appear to be no exception.
Black Widow has been depicted pretty close to her comic book counterpart in the Marvel Movie Universe. Natasha Romanova has usually worn a form-hugging one-piece jumpsuit with her signature wrist gauntlets (which could give Batman's utility belt a run for its money), taking on super-villains and master spies with her fiery red mane and her plunging neckline. Originally introduced as an Iron Man villain who was turned to the side of good, Black Widow has been an ally to Captain America and Wolverine, hopelessly in love with Daredevil, the ass-kicking chick on every team short of the X-Men and was most recently shacking up with long suffering sidekick (and short-lived Captain America replacement) Bucky Barnes.
Johansson's commitment to keeping her locks dyed and her zipper at dangerously accurate levels is to be commended and appreciated by fanboys everywhere.
Hawkeye on the other hand, has been realized closer to his depiction in Mark Millar's ("Kick-Ass," "Wanted") 2000 Avengers reboot in Marvel's Ultimate Universe. Introduced in the pages of "Tales of Suspense" in 1964 (also as an Iron Man villain…seriously, folks hate that guy), Clint "Hawkeye" Barton was a carnival performer duped by his mentor in to taking on the Crimson Avenger so they could steal the cash box. A few Mea Culpas later and Hawkeye was fighting alongside Captain America, hooking up with half the women in the Marvel Universe and was even tapped to lead the first spin-off effort when the Avengers added a West Coast team. Then he got married, lost in time, divorced and then blown up saving the Earth. But it all worked out in the end.
Much how Wolverine's trademark yellow spandex outfit didn't quite make its way to the big-screen, Hawkeye's classic carnival-inspired costume has been replaced by the sleek covert-ops battle suit created by artist Bryan Hitch when Hawkeye was re-introduced as a veteran sniper in Millar's "The Ultimates" run. Honestly, I don't think anyone is mourning the loss of the tunic or the flared domino mask, most especially Jeremy Renner.
How do you think Black Widow and Hawkeye turned out? Let us know below or on Facebook or Twitter.