Arnold Schwarzenegger marks return to movie stardom with action flick "The Last Stand"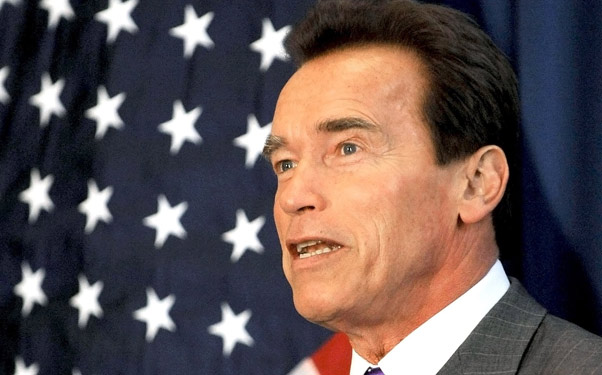 Posted by IFC on
When Arnold Schwarzenegger announced his intentions to transition back into acting following his stint as governor of the world's eighth largest economy, he cited the work of Clint Eastwood as an influence. But while we started imagining Ah-nold grumbling his way through yearly Oscar-bait, the once and future Governator had us all fooled, as apparently he was looking to emulate the Eastwood of 40 years go.
Following a couple days of rumor and speculation, Lionsgate has formally announced their intention to make "The Last Stand," a new action movie starring Schwarzenegger. The flick will be helmed by Kim Jee-Woon, the Korean director of both "I Saw the Devil" and "The Good, the Bad, the Weird." But while the over-the-top wacky "The Good, the Bad, the Weird," was unmistakably an action flick, "The Last Stand" will have a more intense, serious tone.
Schwarzenegger will play the sheriff of a small border town who must rally the troops to defend his town and prevent a drug kingpin from escaping the country. Given that Schwarzenegger's character is also a disgraced former LAPD officer, we expect a fair amount of hemming and hawing regarding whether he'll get back in the saddle, before a stunning climax that sees "Sheriff Owens" redeem himself in the eyes of his colleagues, and most importantly, himself. But that's just a guess.
No word on why exactly "Sheriff Owens" is going to have a noticeable Austrian accent, but the official press release for the movie does make reference to "one of the most daring face-offs in cinema history." So it looks like John Travolta and Nicholas Cage will finally be relinquishing that coveted title.
A Lionsgate film, "The Last Stand" is based on a script originally by newcomer Andrew Knauer with rewrites by Jeffrey Nachmanoff ("Traitor," "The Day After Tomorrow"). It will be produced by "Transformers"' Lorenzo di Bonaventura, so you should expect explosions. Lots of explosions.
What do you think? Will "The Last Stand" be a return to high-octane action form for Schwarzenegger? Tell us below or on Facebook or Twitter.