Brit Marling: The breakout indie star who's taking us to "Another Earth" and back again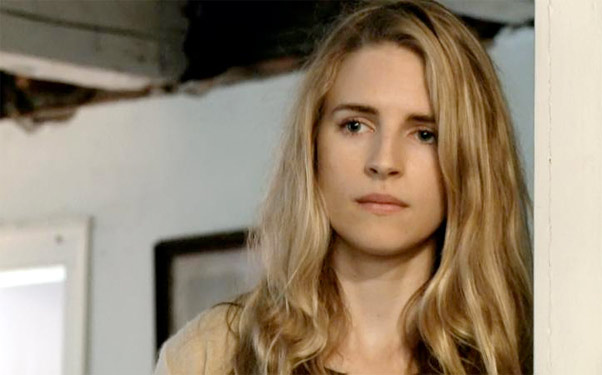 Posted by IFC on
It's one thing to break out at Sundance as the star of two premieres ("Another Earth" and "Sound of Your Voice"). It's quite another order of magnitude to also function as co-writer of those films. Meet double-threat Brit Marling, brainy beauty and new "It Girl" of the Amerindie scene.
An economics major at Georgetown University, Marling gravitated toward filmmaking after seeing a short she loved at a student festival co-directed by fellow Georgetown alums Mike Cahill (director of "Another Earth") and Zal Batmanglij (director of "Sound of Your Voice"). Following a stint as a banking analyst at Goldman Sachs, she made the unlikely segue to full-time actor and screenwriter. Her new film "Another Earth," winner of the Sundance Jury Prize and bowing in limited release July 23, is a mix of sci-fi hi-concept and indie vibe that eludes classification. Says Cahill, "No matter what you know about the film going in, I don't think audiences can know what they're going to experience by the time the credits roll."
Marling plays Rhoda Williams, a bright student who's been accepted into MIT's astrophysics program, and aspires to explore the cosmos. Then two events fatally converge: overnight, a mysterious double of our planet — provisionally dubbed Earth 2 – appears in the sky, like a giant, reflective mirror. And after a drunken driving accident, Rhoda's life becomes irrevocably intertwined with a brilliant composer (William Mapother), setting her on a journey to seek penance.
At the root of "Another Earth" is the filmmakers' fascination with the question, "What if you could encounter an exact double of yourself?" Marling and Cahill also drew inspiration from the theories of Columbia physicist Brian Greene, who proposes that our universe may be one of many, with an infinite number of doppelgangers. Transcending its modest budget, the film ingeniously exploits the possibility of a multiverse to explore the deep-rooted human yearning for a second chance to make terrible mistakes come right. Front and center is Marling, virtually wordless and warrior-fierce as she tracks down the devastated composer and orchestrates their joint rebirth. In a stunning convergence, Marling embodies the role from the inside out, perhaps as only its co-creator could.
I spoke with Marling at a press day organized by Fox Searchlight, a studio who is about to throw its mighty marketing muscle into making her cinema's new darling. I got to her, I sensed, while she's still fresh, disarmingly innocent, and "unpackaged." Marling, who seems to regard human existence from a cosmic perspective, reflects at length before answering questions, and seems genuinely unaware that she's a knockout.
video player loading
.
.
.
IFC: You made a pretty unconventional switch from economics to filmmaking. How do you explain it?
Brit Marling: That's interesting, I haven't thought about that before. I'd studied theater growing up and loved that, but didn't have many examples of artists around me. Then in college, besides economics, I also majored in studio art and got involved in photography and making short films and acting. But I didn't know you could make a living that way. My idea was you did your work and that was sort of punitive, and then you had your passions on the side.
I think I came to a place where I thought: life, my goodness, is so short. And to spend even one day doing something that you don't love or that doesn't stir you inside, what a waste. I don't know how that happened to me relatively early on, but I suddenly realized my time was, like, limited. I had to do something that shook me up inside and made me feel vulnerable and excited and overwhelmed. Acting really does that for me. I met Mike and Zal at Georgetown, where they were making shorts. I was totally blown away by their work. And then we started making things together. I'd been infected thankfully by the feeling of what it was to do something you really loved with people you cared about.
IFC: What turned you off about Goldman Sachs?
BM: A lot of my peers really loved banking. They loved to wake up with the market and all the stimulus and information coming in. What's happening in China and how's that going to affect what's going on in Brazil and the price of copper is doing this and what does that mean for the price of silver? There was a kind of fervor and energy. Some people are gripped by it.
But it wasn't for me. I found myself in a cubicle, basically just a glorified numbers cruncher. It became about "How good can you get on Excel without touching your mouse and doing everything through key strokes? How long can you stay awake and be accurate to the thousandth decimal place?" It was dry. I was developing so much of my analytical mind at the loss of my imagination and vulnerability and innocence and my willingness to believe that, like, anything is possible. I thought I better do something different.

IFC: Did the fact that you come from a family involved in real estate, and presumably well off, influence your decision?
BM: Oh no, when I left the banking world I definitely knew that life may not be comfortable. Mike [her former bf] and I lived in Cuba for a while [working on their film "Boxers and Ballerinas"] and that's where I realized how happy I could be with very little. I suddenly saw that you don't need that much. I don't need that much space, I don't need many things. What I needed was to do something that moved me. And to be constantly curious and like growing and allowed to grow. I remember in "The Seagull" Nina is like, "Oh, even if I had to eat black bread and live in tiny quarters; even if I was never good at what I did, it wouldn't matter as long as I got to try." And I knew what she was talking about.
IFC: What gave you the confidence and courage to launch yourself into such a volatile and chancy world as filmmaking?
BM: I think it's because I was sort of living the back-up plan first and realizing that there was no other choice. A lot of people think, I'll give acting, or poetry or filmmaking a try. And if it doesn't work out I'll go get a law degree, do something else that's more practical. For me I went the reverse way. I lived the back-up plan. And then I was like, I can't do the backup plan and live — it's this or nothing else. That gives you a kind of total fearlessness about going after it because there is no safety net.
I really feel that with every part I want to be choosing things that I feel compelled to give everything that I possibly have. Because I'm convinced that the time is going to go really quickly.

IFC: You're only twenty-seven. How did you come by this perspective of time running out?
BM: Life is beautiful because it doesn't last. For some reason that's always been part of how I think about things. So I'm always asking myself when I do something: if this is the last thing, would I be okay with it? Would the fibers in me like be chill about it, or would my hair and my skin be standing on end?
IFC: With your amazing looks, do you find it hard to get taken seriously as a screenwriter? Or, put another way, Do you worry that being beautiful might stand in the way of things you'd like to accomplish?
BM: [Expressing what appears to be genuine amazement that she's a knockout.] That's interesting. I'm going to answer this question very honestly. Growing up I was such an awkward girl. I still feel that awkwardness sometimes. I was never the girl that little boys liked.
IFC: You must have changed.
BM: I was a tomboy and into tree climbing and running after, like, snakes and building forts. I wore t-shirts and sneakers for a really long time. And in my family the outside is not what is valued, there's no currency in that at all. When we were growing up the one place we could buy anything from was the bookstore. There was an emphasis in my family on learning and the value of being curious about the world. I have a hard time seeing myself the way other people see me.
IFC: Really? How can you not know that the camera loves you?
BM: [Laughs in surprise, as if she's never considered that.]
IFC: Especially the way Mike Cahill shot you.
BM: I'm sure that's a large part of it. Mike is so talented.
IFC: What drew you to the notion in "Another Earth" of a second you, another version of yourself out there?
BM: [After a full half-minute.] Life is odd right now, because a lot of it is very lonely. Especially in America, with its conception that you'll leave your family behind in pursuit of your dream. It's the individualism the country is founded on and there's an isolationism and loneliness about it.
So the film is a bit of a meditation on ending that alienation. And confronting yourself and the running monologue that's always inside of you. Suddenly you get to externalize that and have it with the person who is you and knows you. Don't we all grapple with the feeling of wanting to be known, wanting to be seen by someone? Do we ever get that? Maybe when you fall in love with someone you feel for a period that person sees you and understands you in a way no other person does .
IFC: So no one's in love with you at the moment?
BM: [Giggling] No one's in love with me. [When the publicist gives the sign] My God, can you imagine two minutes? We just started talking!
IFC: Have you taken acting lessons?
BM: When I was growing up as a kid I would do theater and join companies. When I came to L.A. I studied with Harry Mastergeorge. His emphasis as a teacher is relying on the strength of your imagination to create. Never using crippling things like substitution or actor tricks.
IFC: How do you see yourself ideally in your next role, either as writer or actor?
BM: I never like to revisit the same thing and I always love to go in a direction I've not gone before. It would be fun to do something vixen-y. Like deeply feminine, a girly girl who's using her wiles –
IFC: Like Becky Sharpe in "Vanity Fair," more a period piece.
BM: That's exactly what I mean.

IFC: So do you see yourself writing another role for yourself? Or collaborating on another role? Or acting in someone else's vehicle?
BM: All of it. Lal and I are rewriting something right now that we have to make this summer. Mike is writing something on his own that I hope to act in. It's a thriller and I think it will be really fun to do.
Of course as an actor the thing you get the most pleasure out of is losing yourself in someone else's imagination, creating within a set of constraints. That's the greatest challenge.

IFC: Here you are, the new kid on the block – and how do you guard against getting hijacked by the fame/celebrity machine? Getting "eaten like fish food," as you've put it?
BM: That's a really good question. I'm probably still working on the answer to that. You have to know why you started acting in the first place and you have to hold on to the roots of that tree for dear life. Like even when a storm comes and it's shaking. You have to figure out how to always be connected to the root of why it began. For me the root is that I noticed that I liked the person I was better the more I worked on acting. I liked that person better than the girl who was working on econometrics in the library late at night. I found I was more empathetic, more willing to believe in things. I liked that energy of being alive better. I'm sure there will be times on the way where I take detours and get confused, but I do think I know what began it and hopefully I'll never get too far astray from that.
Will you be checking out Brit Marling's performance in "Another Earth"? Let us know below or on Facebook or Twitter.