Here's all of the "50/50" poster with Joseph Gordon-Levitt and Seth Rogen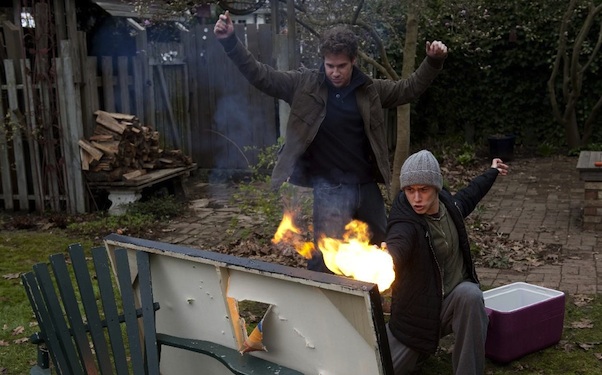 Posted by Matt Singer on
A few weeks ago we brought you the trailer for "50/50" starring Joseph Gordon-Levitt and Seth Rogen. Now we've got the debut of the film's one-sheet. Take a look.
The film, directed by "The Wackness"' Jonathan Levine, stars Gordon-Levitt as Adam, a twentysomething guy fighting cancer with the help of his friend (Rogen), therapist (Anna Kendrick), and girlfriend (Bryce Dallas Howard). It's based on screenwriter Will Reiser's real-life struggle with cancer. And it's a comedy!
One extra note here. In his post about this poster on his blog Hollywood Elsewhere, Jeffrey Wells says "the apparent marketing plan, to go by the one-sheet, is to basically reveal — i.e., spoil — the third-act resolution in order not to discourage business." I could be wrong, but I'm assuming he's referring to the poster's tagline — "It takes a pair to beat the odds" — and in some small way, yes, it does suggest a happy ending for the film. But any synopsis of the film longer than three words mentions that it's Reiser's autobiographical story of his own battle with illness. And — SPOILER ALERT FOR REAL LIFE — Reiser's not dead. And his sheer aliveness suggests the happy ending, no? Maybe that's just me.
"50/50" opens in theaters on September 30, 2011.
Are you looking forward to "50/50?" Tell us in the comments below or on Facebook and Twitter!