5 Tips to Creating an Unforgettable Local Commercial From Rhett & Link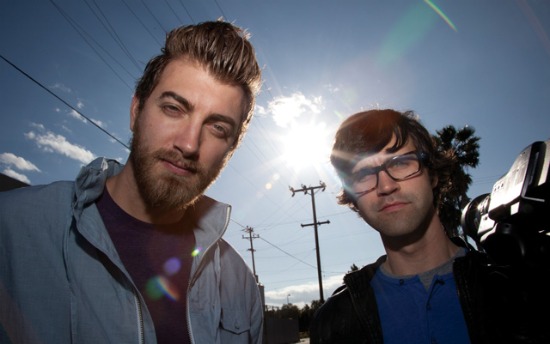 Posted by Melissa Locker on
The local commercial is an American institution. We've been inspired by these low-budget masterpieces for years, and it's a privilege to make them week in and week out on "Rhett & Link: Commercial Kings". You might be tempted to think that unforgettable local commercials are simply beautiful accidents; some kind of collision between misguided concepts and amateur acting. We, however, are firm believers that there is a method behind the madness, and that a truly legendary local commercial is a refined form of art. A book could be written about the keys to making memorable spots, but we'll keep it at five tips.
Concept is King
It may seem obvious, but too many commercials leave out this most important piece: a good idea. Local commercials are, well, local. You're not dealing with a big budget. You can't pay for a big-time actor. You can't afford flashy special effects. You need a concept that grabs and holds the audience's attention.
Tell the Truth
The truth is stranger (and better) than fiction. Our local commercials are rooted in whatever we learn about the business and business owner. When we discovered that Bill, a 70 year old hot yoga instructor, was a decorated war hero and automatic weapons expert in Vietnam, we knew that we had to capitalize on that authentic irony. It was better than anything we could have fabricated.
Use What you Find
Again, local commercial don't carry big budgets. You're not in a position to hire a stuntman or get that money shot from a helicopter. But, you might be surprised if you look right under your nose. When we met Heavy Hill, a private trash hauler in Asheville, NC, we also met his beloved pet mule, Jack. By simply giving Jack a single horn made of a paper towel roll and aluminum foil, we created the Trashicorn, a flying unicorn perfect for a trash man.
Have a Strong Point of View
A commercial slot allows only a few precious seconds to communicate your message, and that message better be clear and memorable. Troy, the owner of an African-American hair salon, asked us to create a commercial for him to reach outside of his usual demographic. When Troy states in his commercial that he wants to serve all women, including "non-black" ladies, we doubt many people will turn the channel before seeing the commercial through.
Sing It
The most unforgettable local commercials have a jingle that sticks in your ear like that worm from The Wrath of Khan. When someone wishes that they could forget the jingle from your commercial, you've succeeded. And that doesn't mean it has to be good. Rather, it has to be memorable, and that just might mean that it's annoying.
Now, all you have to do is find a local business owner willing to take a chance with you as you follow these steps. Then, create your commercial and maybe that mom 'n pop entrepreneur will become a local celebrity (and hopefully get some business, too).
New episodes of "Rhett & Link: Commercial Kings" air on IFC on Fridays at 10 p.m. ET