"World of Warcraft" offers first chunk of game for free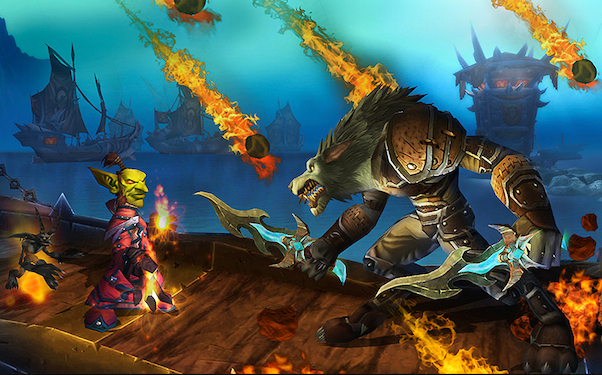 Posted by Evan Narcisse on
Up until recently, there was a stigma attached to free-to-play games. Most examples of the category live on the web, in browser-based games or on Facebook, where an entertainment experience gets doled out in a slow dripfeed. Those experiences get specially formulated to be just addictive to get you to come back–and they're free after all—but also dangle purchasable items or features to either speed things along or give you a competitive edge. Microtransactions like buying a new kart in "Free Realms" or calling in the Mighty Eagle to smash through a pesky level in "Angry Birds" get players paying for perks, long after they start playing. You've probably got a "Farmville" or "Cityville" addict in your News Feed. What you don't know is how much real-world cash they're dumping to keep their little patch of virtual world just the way they want it.
Free-to-play's a model that mushroomed abroad in countries like South Korea, where the gaming culture's different. People tend to log into game profile accounts at internet cafes where they spend time going through games like Nexon's "MapleStory." Technologically, free-to-play games have to support almost any PC so they've tended not to be the most graphically impressive or experientially deep titles. But, even as Nexon's raised the bar with titles like its visually impressive action RPG "Invictus," and Supercell's shoot-em-up RPG "Gunshine" wins over doubters, the mass of gamers have ignored F2P titles.
That ignorance will be very difficult to maintain with recent events. Last week saw two of the biggest online multiplayer juggernauts revise their business models, as Valve's "Team Fortress 2" and Blizzard's "World of Warcraft" both announced free-to-play reconfiguration. Both titles enjoy robust communities and recurring content refreshes, the latter of which was generally free anyway. But their financial models were wildly different, making the fact that they've both gone F2P fairly significant.
Most players got "TF2" by paying a one-time price, getting it either at $60 alongside the first Portal as part of The Orange Box compilation release in 2007 or at $20 as a standalone title. But, as is their wont, Valve's been delivering free content updates for nearly the entire lifespan of the game. So, really not much is changing other than the price of entry's being voided. In the new TF2 ecosystem, there's a line of demarcation between free and premium users but all you need to do to become a premium user is to buy something from the "TF2" in-game store. And, if you bought the game before it went F2P, then you're automatically a premium user. "TF2" enjoys a loyal user base thanks to its balance, art style and humor but many are unhappy about the free-to-play change, saying that it's going to sully their community with hackers, cheaters and n00bs. Personal skill level's a big deal in an online shooter like "Team Fortress 2," so there's some basis to these concerns. But the draw of an award-winning game that's completely free will do more than just expose vulnerabilities.
Valve CEO Gabe Newell talks about the idea of entertainment-as-service, where consumers don't view entertainment as a one-off but as a place they can regularly return to and interact with others who share their passion. By going free, "TF2" adds to that population. It also helps that Valve's Steam digital distribution service serves developers both big and small who want to reach PC gaming audiences, so if players come for free "TF2" they stay some other game that catches their fancy. Most significantly, Valve says that they're not modulating the experience and that all of the game content can be accessed for free. All the stuff that you can pay for–those iconic hats and similarly coveted in-game items–can be gotten through achievements, crafting or drops, meaning that you can make, earn or find them. So, you don't have to pay to enjoy the game. But, if you're impatient or lusting after some in-game fashion, you can shell out cash if you want.
The scenario with "World of Warcraft" is slightly different. Blizzard's powerhouse runs on a subscription model, where its millions of users pay around $15 a month to romp through mythical Azeroth as members of either the heroic Alliance or marauding Horde. Curious first-timers would get the first 14 days free after installing the game onto a PC but, now, Blizzard's changing structure of that first free taste. New players will be able to play for free until they reach level 20. The level cap–the highest plateau of achievement in an MMO like "WoW–rises with every expansion pack. As of last year's Cataclysm expansion, the level cap for "WoW" is 85. So, if you're playing up until level 20 for free, then you're getting about a quarter of the game for free. It's excellent bait to hook players onto an experience that's been already proven addictive by a population of 12 million people. Hell, if you're going to invest your time to play all the way to level 20, you're not going to stop, are you?
Now, even as the benefits of growing their player populations are apparent, both "Team Fortress2" and "World of Warcraft" were doing well enough that they didn't need to go F2P. But, it's the kind of move that will start other publishers and developers thinking and that might result in a seismic shift in how online gaming looks.