Why Michael Bay should be taken seriously: One fan's spirited defense of the controversal filmmaker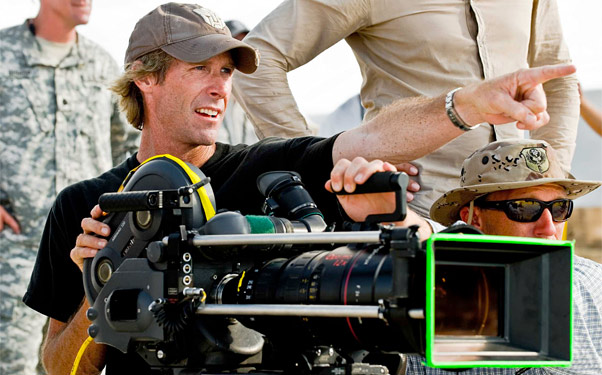 Posted by IFC on
By Travis McClain
If Internet discussions are any indication, the consensus on "Transformers: Dark of the Moon" is that the entire world is lining up to see it, but no one over the age of seven will admit wanting to see it. These kinds of polarizing, hyperbolic contentions are nothing new to discussions about commercial art. The goal, it seems, is to please enough of the public to make money , but not so much of the public that the work is enjoyed by (gasp) the masses. Forum threads in which people are openly excited to see the movie are compelled to qualify their enthusiasm with remarks insisting that they have low expectations (if they have any expectations at all). It's as though going to the theater to see this movie will be intellectual slumming, so we need to know that they're different from the mindless sheep who don't realize how vapid these films are. Michael Bay is a timely microcosm for exploring some of the themes of modern film discussion.
The box office tells us that Bay is at the top of the heap in contemporary cinema, but any conversation with cinephiles eventually suggests that he is some kind of second-class filmmaker. His films, the argument goes, fail to aspire to anything beyond a series of escalating fireballs. This accusation — though admittedly fair — takes on a tone of disdain because it so often comes from the segment of film aficionados who worship at the altar of the auteur theory. The "di-rec-tor," as we're told, is single-handedly responsible for crafting a film and therefore entitled to all glory for the successes and scorn for the failures. Ergo, because Michael Bay's filmography is comprised exclusively of popcorn action flicks, it's evidence that he is not a "serious" filmmaker.
I concur with William Goldman, who famously blasted the auteur theory in his "Adventures in the Screen Trade" by rightly pointing out that film is a collaborative medium. Yes, it's true that a director's job is to marshal the various departments and pass final approval of their work, but he or she can only approve or disapprove of what is devised and submitted to them. I have an innate admiration for writers, but is it really a defect of Michael Bay's that he has no writing credits? Aside from the obvious issue of financing, a film can only exist if there is a screenplay. Sets, costumes and props must all be designed and created to realize the imagined story of the screenplay. Do we fault a director for not also creating those things themselves? Of course we do not. That would be unfair and absurd. It's not their job as director to do those things.
So if we reject the idea that a director is solely responsible for everything we see on the screen — which we should reject, as there are countless talented, hard working people who are responsible for what we see — and we are willing to concede that it is unfair to expect a director to do specific jobs, then we must assess a director for what he or she really does. Ultimately, the director's task is to execute the production of a film. For my money, there may be no one in Hollywood in the same league as Michael Bay and my first piece of evidence is "Transformers: Revenge of the Fallen."
It made a fortune and seemingly everyone hated it for being a convoluted mess, and I don't need to rehash any of that. What is often overlooked in the discussions about that film, though, is how unlikely was its production. Consider that Paramount set a release date before they even had a story in place, and then before anything was written came the writers' strike. Upon its resolution, screenwriters Roberto Orci and Alex Kurtzman were sequestered in a hotel room and handed in pages at a time as they were written. Those pages were eagerly taken by all the other departments, who need to find shooting locations, secure permits, design costumes, sets, props; actors had to be cast and learn their parts.
All of this took place in far less time than a film of its scale really needed. The CGI effects were so ambitious that one of the Industrial Light & Magic animation computers overheated and was fried, and the effects were still being created up to the last minute before the film's premiere. Yes, there was time to discuss and refine the story, but far less than was (obviously) needed. Shooting began on June 2, 2008 and the film opened on June 24, 2009. I'll readily concede that "Revenge of the Fallen" is flawed, but rather than crucify Bay for it, I would expect any "serious" cinephile would stand in awe of the fact that he managed to meet Paramount's unreasonable deadline with a finished product. I suspect few of his peers could have succeeded with such an ambitious production schedule and so little time.
For all the admiration of artistry within film, there seems to be a discontinuity about appreciating the sheer logistics of making a movie of the scale on which Bay operates. How you can know the distinction between a cinematographer and a director of photography, but not be astounded that Bay gets these kinds of movies made with so many people involved — particularly stunt coordinators and performers and effects units — makes no sense to me. Until, that is, I consider the auteur theory. We're not interested in what a director really does. We just want to idolize the ones who oversaw the production of the films that resonate with us. Bay's films may entertain us, but they do not challenge us to leave the theater and re-examine ourselves or our world. Ergo, they are an inferior form of storytelling and Bay must, by extension, be a second-class storyteller.
I'm reminded of Ian Fleming, creator of James Bond. Paul Johnson once wrote that, "Mr. Fleming has no literary skill, the construction of the book is chaotic, and entire incidents and situations are inserted, and then forgotten in a haphazard manner." Sound familiar? For his part, Fleming insisted that he was a "writer," not an "author," and that "The target of my books lay somewhere between the solar plexus and the upper thigh." As it turns out, there was plenty of room on the book shelves for Ian Fleming's unskilled chaos alongside works that sought to change the world by affecting its audience. Fleming was right not to apologize for his works, as is Bay today.
It may be tempting to think that any idiot could make a fortune just stringing together scenes of sex and violence in a book or following a car chase with a gun fight and an explosion with a massive fireball. Ian Fleming and Michael Bay may make it seem obvious and easy, but there have been countless imitators who have failed to enjoy their level of sustained success. To date, only one Bay film was a box office failure in the United States (2005's poorly marketed "The Island"). If you think it's easy to consistently win over that many people, send an e-mail to the White House and ask President Obama how hard we can be to keep happy.
More importantly, there's nothing wrong with trying to please the public. This case was made most clearly by Preston Sturges through "Sullivan's Travels." Of course, I don't need to summarize that film for you serious cinephiles but for the casual movie viewer, it's about a director known for making lighthearted comedies who feels inadequate and sets off to make a dramatic picture. He takes off to live as a homeless bum for research into misery, and by the end of the film he learns how important it can be to the public — many of whom are already miserable — to just get away from it and laugh for a couple hours at a movie.
So long as my stupid Crohn's-infested guts cooperate, I intend to go see "Transformers: Dark of the Moon" the night it opens. I dig watching robots beat the snot out of each other, and I feel confident going into the movie that Michael Bay will have approved a final cut that throws lots of fun stuff on the screen and moves at a brisk pace. I can go back to exploring Ingmar Bergman's filmography and the religious symbolism of Persona later. Enjoying a Michael Bay film doesn't make me a poseur when discussing Bergman, but turning up my nose at Michael Bay on principle does make me a pretentious snob.
What are your own thoughts on Michael Bay? Chime in below or on Facebook or Twitter.