"We Are the Night" And He Is Dennis Gansel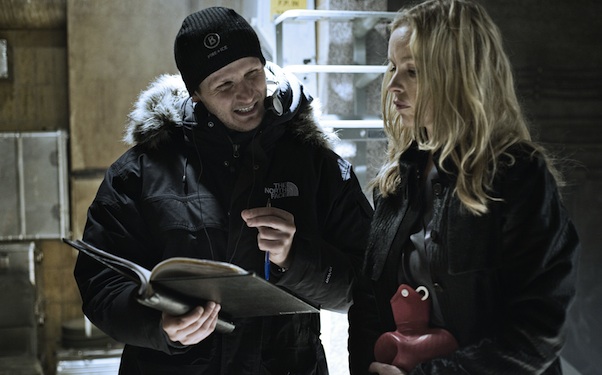 Posted by Matt Singer on
There have been a lot of vampire movies on the market lately, but few like "We Are the Night." It's about a petty criminal named Lena (Karoline Herfurth) who is spotted by a beautiful, ageless vampire (a ferociously menacing Nina Hoss) and inducted against her will into an all-girl crew of badass vamps. There's a little bit of lesbian intrigue, some smart world-building around the idea of an all-female vampire society, and an appealing blend of genres: horror, action, and even a little social commentary. The material might seem like a departure for German filmmaker Dennis Gansel, whose two previous works as a director, "Before the Fall" and "The Wave," were both Nazi-centric stories focused around high schools. But as we discussed during our conversation, there are some very clear and very interesting thematic connections in all of Gansel's recent work.
People of my generation who went to public school in the 1980s will probably recognize "The Wave," based on an experiment on the nature of fascism and dictatorships in a California high school, from the classic TV movie starring Bruce Davison it inspired. Gansel's version ups the production values and style and, simply by setting the story in Germany, significantly ups the ante as well.
With IFC Films bringing both "We Are the Night" and "The Wave" to VOD ("We Are the Night" is available now; "The Wave" premieres next Wednesday, June 8) I had the chance to chat with Gansel about the origins of both project as well as some of the peculiar specifics of making a vampire movie (you'll never believe how many different kinds of fake blood they have to use).
Where did the idea of a movie about a family of female vampires come from?
When I started this story, back in 1997, I read a lot about vampires and I discovered the novel that was actually the first vampire novel ever written: "Carmilla" by Joseph Sheridan Le Fanu. The novel dealt with a female vampire duchess traveling through Austria, in the region of Styria. She falls in love with the daughter of a landlord and she bites her and makes her her companion. This novel was actually the biggest influence on Bram Stoker's "Dracula," so much so that he actually wanted Styria to be his setting too, but his editor said he couldn't do it. They were frantically searching for another location and that's when they came up with Transylvania. I thought if female lesbian vampires who don't bite men is in the very beginnings of vampires' history, it could be very nice for us. And that's where the idea came from.
Watching these incredibly wealthy women living these luxurious, decadent lives, and then occasionally drinking blood, it reminded me an awful lot of "Sex in the City" with vampires. I know your original idea predates the show, but was that an influence at all?
I wasn't a big fan of "Sex and the City," but I know the show because, oddly, it was a huge hit in Germany. But I don't think it was an influence on the film. The idea was more from watching women in Berlin in the last five six years and the way they behave, shop, club, and the way they have relationships with men. It's a very vibrant, almost emancipated way they live their lives. Watching them, and going to some of the wilder clubs in Berlin, the things we saw were so absurd that we thought they would make a good part of our vampire film.
Has the vampire genre been undergoing a renaissance in Germany in recent years, the way it has been in the United States? Are there are lot of modern German vampire films?
"We Are the Night" is a rare film in Germany. It's more like an experiment. It was really really hard to convince the financiers to believe in the genre again. When the film opened in Germany it didn't make much money, essentially because everyone in Germany thought it was sort of a German "Twilight." We had a lot of problems in the communication with the audience. It's now a huge hit on DVD but in cinemas it was quite disappointing.
When you're making a movie in such a well-established genre like the vampire film, how do you know what elements to keep and what elements to reinvent?
It really depends on the story. We were making these decisions while we were writing. Actually the one thing we talked about a lot was the fact that they are all female vampires, which raises the question "But what about the male vampires?" And we thought "Okay, if we were female vampires, we would instantly kill every male vampire because they would obviously be much stronger than we are." We though that the survival rate for female vampires would be much higher because they were less likely to reveal themselves and they wouldn't kill as many people. And ironically that is what our female vampires do after Lena joins the group; the body count rises because they want to impress her. Ultimately these male aspects may lead to the extinction of our vampires. We thought that was an interesting side effect.
There were two shots in the film that really caught my eye, both close-ups of women's arms. In one we watch as goosebumps suddenly appear, and in another the hairs on the arm suddenly stand on end. The shots are so simple, but they are so cool. Are those real arms and real goosebumps or is that some computer magic?
It was actually our main actress, Karoline Herfurth, and her arm, but we enhanced it. So we did use visual effects to get the right motion of the hair. We tried everything: ice, even cold air! But it didn't work out so we had to enhance it a little bit. There's much more CGI than you would think in the film. We have over 250 CGI shots, which is a lot.
I'm always interested in the practicalities of fantastical movies like yours. For example: what's the best way to shoot fake blood? Does it need to be lit at a certain way? Do you have to keep it at a certain temperature?
There are actually different sorts of blood for each scene. So for night scenes you need blood that is much more light. For daylight scenes you can use much darker blood. I think we used five different types of blood. And it was actually made so you could drink up to half a liter and nothing would happen. But if you drank more than that — and in one scene they drank a lot — you get, um, problems. You'd get a stomachache and have to run to the bathroom. [laughs] It was very funny.
[laughs] So even vampires have to know their limits. Switching gears here, I wanted to ask a few questions about "The Wave" as well. As a kid, I remember seeing the TV movie that was based on that experiment several times. Did you grow up with the story as well?
I didn't see the movie but there is a novel based on the movie that, because of our history in German, is required reading for kids in school. I did a movie a few years earlier called "Before the Fall" and it was dealing with Nazi schools where my own grandfather was a student and later a teacher. I made that movie because I wanted to understand why those ideas were so seductive, and to make it possible for the audience to emotionally understand how these schools and the system worked. That film led to more questions: "What about my generation? Is fascism or dictatorship still possible?" In Germany, with our history, everyone always says "No, no, no. We learned our lesson. We learn so much about it in high school and university and daily life."
So it was quite interesting for us to raise this question. I asked it to [Ron Jones] the original teacher of the Third Wave experiment. And he said, "Dennis, it's not about the nation or politics. It's about psychology. And in my opinion, the psychology behind The Wave is so strong it can even work in Germany."
I got to see the two films back-to-back. And seeing them that way, you realize that even though they have such different subjects — female vampires versus a high school class — they're basically talking about the same ideas: how badly individuals want to feel like part of a group and how power seduces and corrupts. Are the two films connected in your mind in that way?
Absolutely. And I would say it's the same with "Before the Fall" too. That and "The Wave" and "We are the Night" are dealing with the same subject: what would I sacrifice to be part of a group and where are my moral standards? At what point would I say enough is enough? That's something I have found fascinating since I first started making movies.
I've read other interviews you've given where you talk about wanting to make movies in Hollywood. How's the transition going so far?
After "Before the Fall," I got an agent and I flew out to Los Angeles for the first time. And I was surprised because in Germany it's all about the money. In Germany, they say "Oh you can't do that as a movie, people won't like it." We do comedies all the time and it's really tough to get on with new ideas. In Hollywood — or the United States — it's just about ideas. When you go to Los Angeles or New York, all the meetings are just about the story. It's all about your ideas; what's fresh, what's unique. And I did find this very refreshing. That's the first part; then afterwards it's about money and actors and it gets really tough. [laughs]