Upcoming Shooter "XCOM" To Feature Gay Character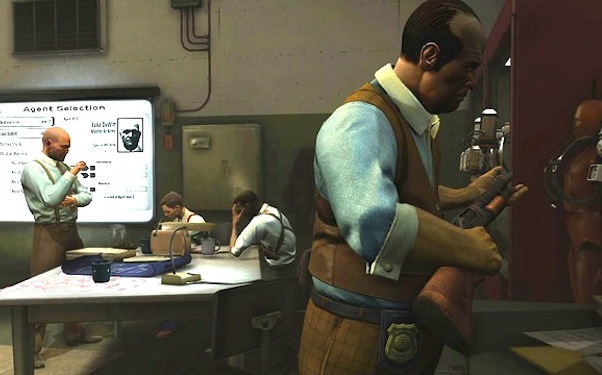 Posted by Evan Narcisse on
For all the billions the medium makes year-on-year, you figure people of all stripes are buying video games. Black, Asian, gay, disabled… the pleasures of video games speaks to all of them. But the games industry does a lousy job when it comes to diversity. Most lead characters are, as I said yesterday, Standard Issue White Guy #38 and their supporting casts generally hew to the same WASPy mold. Where there are characters that come from alternative backgrounds, tokenism usually runs rampant, meaning that you don't really get good characterization. If you're lucky, stereotypes are avoided and all you need to do shake your head at missed opportunities.
But, the team at 2K Games that's making 2012 shooter "XCOM" wants to make the most of an opportunity. According to an interview at Gay Gamer, they're putting a closeted gay scientist in the FPS/strategy hybrid and he won't be any kind of mincing sidekick. Narrative director Jordan Thomas tells the site that the character of Dr Weir:
"Weir is an Australian. He's not a citizen of the States, although he came there to study particle accelerators, and already found himself an outsider on that grounds alone simply because of the paranoia of foreigners that was prevalent in the mid-century."

"But on top of that, he is also a closeted homosexual. He has both a sexual and a political opposition to the elite of the country, which are still very conservative – very focused on America as the best and the brightest – and he doesn't fit their paradigm. It is hard for them to acknowledge that one of the best scientists in the world is, in their minds, deviant. So he's struggled with that for a long time."

"But all of sudden this alien invasion hits and they need him and they have to put it aside. But then you see those tensions come to bear in the base. There are characters who don't like working with him. They are people of their time. And so you'll see different positions represented amongst the core cast. But he is – he is a man with true grit. He's able to weather it pretty well, and the player kind of gets to decide where they fall on that continuum. You can basically decide how to treat him."
"XCOM" looks to be falling on the tried-and-true use of science-fiction as social commentary. In the interview, Thomas also alludes to a black agent who fell out of favor with the FBI's infamous COINTELPRO division after refusing to falsify evidence that Dr. Martin Luther King, Jr. was a communist. Now, neither this black character or Weir are the lead characters in "XCOM." Nevertheless, the fact that they're being crafted to shed light on the civil rights struggles and simmering tensions in the supposed golden age of the American century makes me exponentially more interested in XCOM than I already was. And I was super-interested ever since seeing it last year.
Are you excited or worried about how Dr. Weir will be portrayed in "XCOM"? Let us know in the comments below or on Facebook or Twitter.