The Tron Guy Thinks He's Got Talent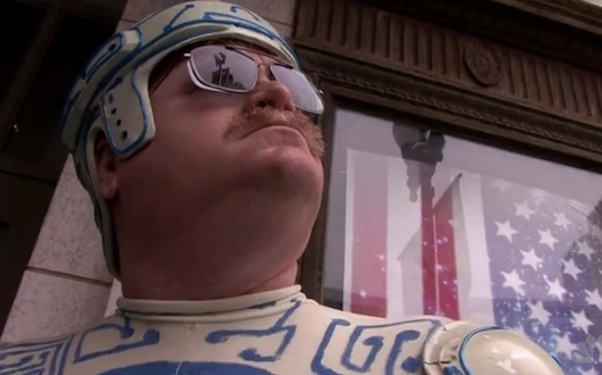 Posted by Matt Singer on
Do you know The Tron Guy? Don't be upset if you don't; I kind of wish I didn't. Knowing the Tron Guy means I am a huge dorkus, much like The Tron Guy himself. If you are unfamiliar with this (Tron) guy, he's a gentleman known on our biological plane of existence as Jay Maynard, who became an "Internet celebrity" for creating a disturbingly accurate spandex version of the costumes from the movie "Tron" and then, even more disturbingly, wearing it in public. By choice!
Apparently, Mr. Maynard got a taste for humiliation on a mass scale, one that he can't wait a couple years for the just-announced next "Tron" film to quench. And so The Tron Guy took his act to television, as a contestant on NBC's "America's Got Talent." And what, pray tell, is Tron Guy's talent? I will let you find out for yourself.
Yes, that's right. His talent is the ability to be booed off a stage and maintain his sunny disposition. And to wear spandex without a cup. Dear Lord, I think I can see his joystick.
Poor Tron Guy. You were too beautiful for this world and its restrictive obsessions with loose-fitting fabrics and full-time jobs. Someday, when the programs rule the earth, you'll get your due.
[H/T Badass Digest]
Would you ever wear a spandex Tron suit in public? Tell us in the comments below or on Twitter and Facebook!