Top Five Pop Star Perfumes No One Should Have To Smell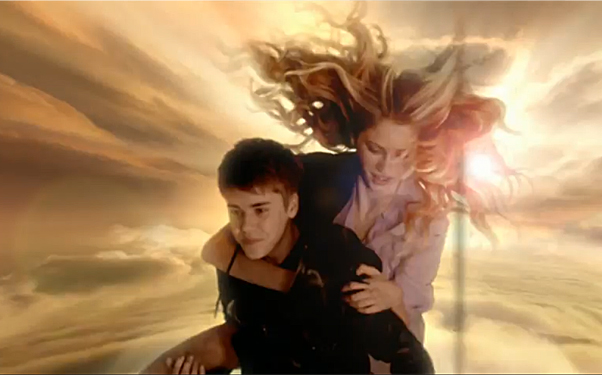 Posted by Brandon Kim on
Attaching their name to a perfume and marketing it to their fans is a right of passage for the lamestream pop star. Britney Spears, Mariah Carey, Celine Dion, Avril Lavigne, Gwen Stefani, JLo, and Hilary Duff all have brands and the list goes on with Justin Bieber boldly joining the female dominated fragrance field.
Lady Gaga is getting into the sicky sweet fumes business too with a fragrance that contains her blood, supposedly feels like semen, and smells like an expensive hooker. The odor, dubbed "Monster" comes out Spring 2012 so you'll have to satisfy your olfactory needs the old fashioned way until then. In the meantime, here are the top five pop star fragrances we don't want to smell on you.
---
---
5. Hilary Duff — "With love"
When not trying to act, Hilary Duff market's her scent, "With Love," which she said inspired her song of the same name. She even carries a giant bottle of it around with her in the video for "With Love," to spritz on for well-dressed male fans/stalkers.
Smells like: Duff's fearful musk let loose in a catfight with Faye Dunaway, strong hints of overripe fruit.
---
>

4.Mariah Carey — "Lollipop Bling," "Forever," "Luscious Pink," any other fragrance by Mariah Carey
I've lost count of how many perfumes Mariah Carey has had concocted with her name on them. Her latest line alone has three different styles, all called "Lollipop Bling," something — "Honey," "Mine Again," etc. The name tells you all you need to know, but just in case, there are dozens of fan-made YouTube videos to wow you. Who buys this stuff? This chick does, "She could put out a line of fragrances that smell like pesticide, and I would still buy it, because it has her name on it," she reveals.
Smells like: A floriental fruity combo of high fructose corn syrup, bombed Glitter and wet butterflies.
---
>
3. Avril Lavigne — "Forbidden Rose"
The twinkly derivative "Harry Potter" sounding score in Avril Lavigne's "Forbidden Rose" perfume commercial makes it almost appealing… until her voice comes in. At least it makes more sense then what she does in this music video for "What The Hell," which has her shamelessly spraying tons of her own perfume brand — she can't stop, she's having too much fun.
Smells like: Black nail polish, ersatz punk droppings, with notes of jailbait.
---
>

2. Britney Spears — "Hold It Against Me"
If Britney Spears doesn't have quite as many fragrances as Mariah Carey, she makes up with it with sheer tween branding power — not to mention incredibly creative names like "Midnight Fantasy," "Hidden Fantasy," and seriously, "Circus Fantasy." Her newest potion breaks new barriers for her in imaginative titling. Called simply, "Radiance," she also features it prominently in her video "Hold It Against Me."
Smells like: A hair scrunchie left on the floor of a Sephora with a cacophony of of gold-plated trailer park and Mouseketeer tears.
---
>
1. Justin Bieber — "Someday"
Bieber's scent promises that, someday, he'll catch a whiff of you wearing his perfume and then he'll whisk you away into the clouds where you'll ride around on his back and he won't be able to stop smelling your neck. Bieber says his proceeds from the perfume go to charity, but that's only a portion — the fragrance line is still expected to net Biebs $30 million. Just watch him snarl when he says "charity" in this promo video, it's not even subtle. You don't need to be an expert in applied psychology and microexpressions to see his distaste for it.
Smells like: Plastic hearts, Kool-Aid mustache, with a bouquet of hair swoosh and broken teen girl dreams.
Did we miss your favorite scent? Are you huffing some Eau de Biebs right now? Let us know in the comments below or on Twitter or Facebook!