The top 10 worst teachers in movie history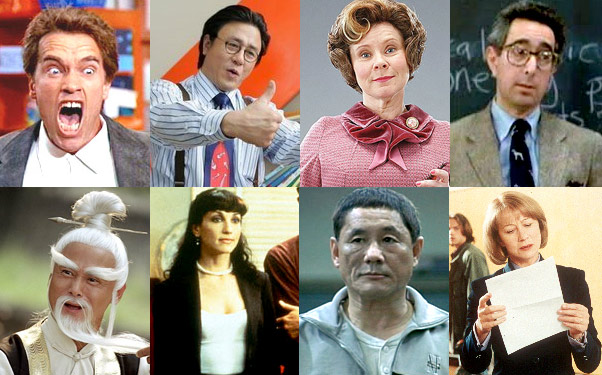 Posted by IFC on
Cameron Diaz may play the title role in "Bad Teacher," but many, many terrible teachers have come before her to the big screen. The film, which opens this week, joins a proud tradition of movies featuring educators with questionable intentions.
In fact, Diaz looks like a candidate for a Golden Apple award for teaching excellence when compared with some of the classroom authority figures envisioned by John Hughes and Ingmar Bergman. Any child would be lucky to have her in charge if their alternative involved a psycho from Park Chan-wook's "Lady Vengeance" or Arnold Schwarzenegger as an undercover cop.
While Diaz may be worthy of the label "Bad Teacher," these ten characters deserve to be recognized as "The Worst Teachers in Movie History."
---
10. Detective John Kimball, "Kindergarten Cop" (1990)
Male action stars fought bad guys in all kinds of unlikely places and with shockingly mismatched partners during the 1990s. Hulk Hogan had "Mr. Nanny." Sylvester Stallone starred in "Stop! Or My Mom Will Shoot." And Arnold Schwarzenegger shook down a classroom of little brats to find a kidnapped child in "Kindergarten Cop." As Detective John Kimball, he fires off one-liners like "It's not a tumor!" and "Who is my daddy and what does he do?" that have gone on to become quotable classics.
Despite his success in find the missing child, Kimball fails to keep his class under control in virtually ever scene and even drops a kid, making him a terrible guardian and a potential insurance liability.
---
9. Mrs. Tingle, "Teaching Mrs. Tingle" (1999)
Helen Mirren certainly ranks as the classiest horrible teacher on this list from her performance in "Teaching Mrs. Tingle." She's smarmy, she's witty and she knows precisely which buttons to push with her overachieving student Leigh Ann (Katie Holmes). Tingle treats Leigh Ann so harshly that the young girl and her friends visit her home and end up careening down a spiral of bad choices that result in a kidnapping situation. Throughout the whole ordeal, however, Tingle remains as charming as she is vicious and unrelenting.
---
8. Pai Mei, "Kill Bill: Vol. 2" (2004)
As a kung fu instructor training Beatrix Kiddo (Uma Thurman) in "Kill Bill: Vol. 2," Pai Mei makes Mr. Miyagi in "The Karate Kid" look like Mr. Rogers. He knows how to turn an apprentice into living weapon, but his teaching strategy involves endless insults and hard labor–and don't even think about trying to talk to him in Japanese. This is the one teacher above all others that you do not want to mess with, but his tutelage is only for the strong-willed and thick-skinned.
---
7. The Economics Teacher, "Ferris Buehler's Day Off" (1986)
Ben Stein set the bar for boring in his emotionless, iconic performance as the teacher calling out Ferris Buehler's name during an epic act of truancy. He wasn't necessarily the worst teacher of all time, but his rapport with his class seemed to be totally non-existent. You can't blame a free-spirited lad like Ferris for wanting to be somewhere else.
---
6. Diane Marshall, "The Teacher" (1974)
According to the trailer for this bizarre 1974 film (but let's face it, what wasn't bizarre in 1974?), teacher Diane Marshall (Angel Tompkins) "corrupted the youthful morality of an entire school."
"How did she do this?" you may wonder. Well, she likes her male companions scandalously young, and she exercises some extremely poor judgment by using the student body as her personal dating pool.
---