The top 10 obscure Transformers that we'll never see in a "Transformers" movie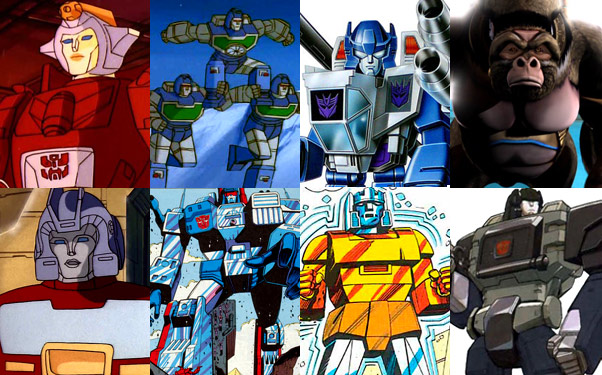 Posted by IFC on
"Transformers: Dark of the Moon" has Shockwave, which is awesome. And we think we may have spotted what's supposed to be Laserbeak in the trailer as well. It'll be nice to see these two old friends added to the 'Hey, I used to have that toy!" sightseeing tour that happens with every "Transformers" movie, even if they're sometimes barely recognizable (uh, that dog-looking thing with the "enemy scrotum" in "Revenge of the Fallen" was supposed to be Devastator?). There are a few Cybertronian pals who will probably never get their own big-screen counterparts, though, if only because even some of the most hardcore Transformers fans can barely remember them. Here are a few such giant robots that will never have sketches faxed to Michael Bay's office (and the actors who would voice them — you know, just in case).
---
10. Twin Twist
The Jumpstarters, Topspin and Twin Twist, were never very popular toys — you pulled them back while in their vehicle modes (a mechanical hang glider and a drill machine, or something, respectively) until they clicked, and upon release they would charge forward for a couple of seconds before "jumping" into their robot modes. They would rarely "jump" into a standing position, though — their constant toppling over made them seem like they were always drunk (much to the chagrin of Optimus Prime, surely). Toy stores were usually always overstocked with the damn things, plus they never appeared in any of the animated series and made only rarely appearances in the comics. Surprisingly, though, Topspin is making an appearance in "Dark of the Moon" (though as what looks to be a completely reinvented character), and there's so sign of his brother, Twin Twist — which is kind of too bad, as Michael Bay could probably do wonders with a giant alien drill machine thing.
Ideal Voice Actor: Jason Mewes
---
9. Orion Pax
Orion Pax was a Cybertronian dockworker before the epic war between the Autobots and Decepticons. He was severely damaged during an attack led by Megatron and later rebuilt by Alpha Trion, one of the oldest Transformers, into a mighty Autobot warrior by the name of… Optimus Prime. We're not sure why the writers of the animated series thought there needed to be a "before he was Optimus" storyline, but there you have it, the moving tale of a mild-mannered working stiff who became the greatest Autobot leader of all time. We are sure, however, that the makers of the "Transformers" movies will ignore this part of Cybertron's history completely. Alpha Trion had a metal robot beard, by the way.
Ideal Voice Actor: Ed Helms
---
8. Computron
There are those who would argue that the Technobots would never make an appearance in anything remotely involving Michael Bay simply because they're some of Cybertron's most intelligent citizens… and Mr. Bay isn't exactly known for putting an emphasis on "smarts". The Technobots — consisting of Scattershot, Afterburner, Lightspeed, Nosecone and Strafe — were a team of brainy warriors that merged into the mighty Computron, the (by default) nerdiest of the Combiner super-robots. Devastator (or that thing that was supposed to be Devastator) made an appearance in "Revenge of the Fallen", and we have a feeling the Constructicons are going to be the first — and last — Combiner team that we'll ever see in a "Transformers" movie. Too bad the Autobots will never get to show off one of their gestalts to live-action audiences – and it's even more of a shame that, even if we did get to see one, it definitely wouldn't be this over-analyzing, brainiac giant.
Ideal Voice Actor: Frank Welker, though synthesized to sound cool this time, which they forgot to do with Soundwave
---
7. Xaaron
Xaaron only ever appeared in the "Transformers" comics, a medium which was decidedly much more convoluted and intricate in its Cybertronian mythology than any of the animated series (in other words, the comics would never, ever stoop to something as simplistic as "the Quintessons created the Transformers"). Emirate Xaaron is an old fella, probably even older than Ironhide and Kup — in fact, during the beginning of the Autobot/Decepticon war, it was Xaaron who convinced the Council of Autobot Elders to make Optimus Prime the leader of the Autobot army. After Optimus, Megatron and their respective armies were lost to Earth, Xaaron ended up becoming the leader of the Autobot resistance on Cybertron. He is confident, wise and a bit of a rabble rouser, though by no means a fighter — in fact, he hasn't transformed into his small attack tank mode in hundreds of years, and to try to do so now could cause such a shock to his system that he could experience permanent shutdown. As we already got the hobbling, farting Jetfire in "Revenge of the Fallen", we doubt we'll get another "old" Autobot anytime soon — besides, Mr. Bay and company have seemed so far rather uninterested in any "Cut To's" to Cybertron goings-on.
Ideal Voice Actor: Ian McKellen
---
6. Firestar
Hey, where are all the female Transformers, anyway? Well, four million years ago, a whole group of female Autobots, led by Elita One (unfortunate name, that), tried to board the Ark with Optimus Prime and his team of boy Autobots but were supposedly destroyed during a Decepticon attack. They weren't. They're alive. And they're hot! Firestar, Elita One and the rest of the female Autobots continued to enrage the likes of Shockwave and other Decepticons on Cybertron with their robberies and acts of sabotage. Firestar is particularly close with the Autobot known as Inferno (they share that whole fire motif, and they're both red, so it makes sense), and who knows? Maybe if this crazy Autobot-Decepticon war didn't keep tearing their attentions away from each other, they could be more than just friends. But alas, there's no time for that. And there's no room for Firestar — or any other female Autobot, for that matter — in a "Transformers" movie, 'cause if a lady can't "arch her back" on cue like Megan Fox can, Michael Bay has little to no interest in her.
Ideal Voice Actor: Mila Kunis
---