Tom DeLonge Talks About "Love," blink-182's Reunion And The Biggest Moment of His Life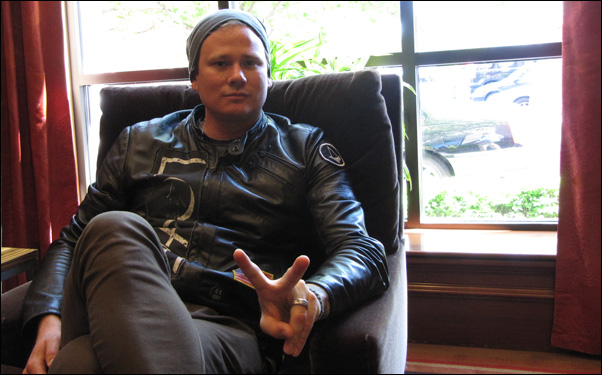 Posted by Stephen Saito on
There's something charmingly old fashioned about the way Tom DeLonge calls his first venture into the film world "a motion picture," which may be a more accurate description of "Love" than he may know. A film that's so beautifully captured in every individual frame that it easily lends itself to adjectives such as striking and haunting, its very plot is unstuck in time, caught between the future where an astronaut is grappling with his sanity as the end of his space mission draws near and the past where a lieutenant in the Civil War makes a discovery that could send ripples through chronology as we've come to accept it.
Appropriately enough, DeLonge and his band Angels & Airwaves have similarly closed the gap between one era and another with the science-fiction flick that they've not only scored, but will release later this year as part of a double album that its lead singer is keen to stress will be distributed independently. In this day and age, that means going back to basics, attending "Love"'s premieres at the Santa Barbara and Seattle Film Festivals with a fleet of orange-jumpsuit-dressed astronauts and employing a showman's zeal to turn something small but imaginative into something as epic and reverberating as the aural landscapes they've been known to create musically.
Most of the heavy lifting has already been done, both literally and figuratively, by the film's first-time director Will Eubank, whose reel caught the attention of Angels drummer Atom Willard and led to a four-year production in his parents' backyard (of which he recounted every grueling detail in our interview with him back in February). Considering the space shuttle set Ron Howard used for "Apollo 13" not good enough despite limited means, Eubank made countless trips to Home Depot and pounded infinite furniture staples into a self-created spacecraft cabin to realize his vision, one that exemplifies Angels & Airwaves' belief that anything is possible and simultaneously announces the arrival of a dynamic new filmmaker.
While in Seattle (where the film will show one last time on June 11th), DeLonge's only singing was confined to the praises of Eubank, but the frontman also spoke of how "Love" was an ambitious next step for Angels and Airwaves, how he's preparing for his biggest year ever with a reunion of blink-182, and the way the distribution of "Love" could set an example for independent artists everywhere.
How did this film evolve from the initial idea to shoot a series of music videos?
When we started Angels & Airwaves, we wanted to produce our art on different mediums, but the film was an ambitious one because we actually didn't go into it thinking we could make a big feature film. We went into saying, hey, let's make some really amazing imagery that can not only further the ambition of the band, but further the message of what the central theme is. The imagery came back a lot better than we expected, so we [thought] we should not just have vignettes, we should really try and have a cohesive story. That's where we really had to double down and bet the whole house and farm. And this whole story really is Will, the director, the prodigy, the superhero — he's Thor. [laughs] He built the space station by hand in his parents' driveway. The Civil War battle he built in his parents' backyard. It's incredible what one guy did.
While it's his story, did you set any parameters for Will in terms of what you wanted to convey onscreen?
The way we operate is I'd like to pick somebody that I think I can communicate with, someone that I believe in, someone that aspirationally and ambitiously thinks the way I do. So we found Will. Then the second rule would be it has to be about human life and consciousness, something that is deeply spiritual and goes along with the ethos of Angels & Airwaves. It [also] had to be relative to space because the central theme of Angels & Airwaves is that space, if it is truly infinite, then there's an infinite amount of possibility of what's happening out there. So he came up with the idea of presenting a story about human consciousness revolving around space and telling a story of human connectedness, which is all about love.
Was it a different experience building music around imagery someone else has created whereas you've often had the imagery serving the music in your music videos?
When [Will] was filming this thing, because it took so many years, I was constantly thinking about how am I going to fit my music to his movie? How is this guy going to be running with a Civil War flag or laying down on a spaceship and am I just going to start singing? How would that not be distracting with my high-pitched, weird punk voice? [laughs] When the movie was finished, I was so much more inspired just to score the film and not have me sing at all in it to support the fact that not only is the band making motion pictures, but the motion picture is the central theme, not me. Not Angels & Airwaves. It's the story. And that made me excited.
That's cool that it's such a pretentious, ambitious project, but we're not putting ourselves out in the front at all. I'm not acting in it. I'm not singing at all in the film. That's what's catching people most off-guard. They're like, "Wait, so you're not even promoting yourself in this?" Because I want to be famous. No. I want to be famous for my art if I was lucky enough to have people like it. That to me would be really fulfilling, but I don't want to be on camera and all that shit.
Angels and Airwaves' sonic sound really seems complimentary to a film score. Has the band ever been asked to contribute a score to a film?
When we were trying to find out how to be us, we would surround ourselves with cinematic imagery, starting with Stephen Ambrose World War II books, just epic pictures of battles that I was just obsessed with the idea that all these 19 and 20-year-old kids were fighting Nazis and Russians in the last great war, where it was like good versus evil. [laughs] Not like the ones that are plagued in controversy like all the way up to now. The old Ambrose World War II books really helped capture our imagination of sad, cinematic music underscoring momentous events of human life. That's how we found ourselves.
Later on, people really started coming out of the woodwork and we got so many comparisons to…this is the funniest thing: Bill & Ted's Wild Stallions. They created the band to save the world. We got that a lot. But no one has approached us to make films. What's weird is if [an actor] plays music, they're judged quickly and if a musician goes and acts and makes a film, they're judged quickly. Hopping that fence and doing art on both sides, you're very quickly judged and it's not an easy thing to do.
When you say the band was "finding out how to be us," it's interesting because the film spanned a very specific time for Angels & Airwaves where you really start coming into your own after releasing your first album "We Don't Need to Whisper" and now when you're leaving the group for a bit to reunite with blink-182. Does it feel like it captures a particular moment for the band?
It does because I think when blink got back together, the first thing everyone thought was okay, his little side project's going away. And I was very quick to say, "No, this band is never going away." People will go, well, why do you care so much about this thing? Because you're the little rebellious punk guy that we grew up with and who are you acting like in this band? What people don't understand is that's who I am.
I'm also that guy from blink — [I like] potty humor, I got kicked out of high school. But every day, I read books on philosophy and science fiction and human consciousness. I'm passionate about those things, so the great timing of this right now is that Blink will release its new record this summer and all those fans will get what they've been waiting for, I think, and they'll be really stoked because it's a great record. It's going to be really exciting.
Then right after that, we're going to release the biggest art project in my entire life. This is like the pinnacle of anything I've ever released in my life. A double album with a feature film with a record label that I started. We're 100% independent. The album will be released and the movie will be released and it'll be marketed and distributed 100% independent from any publisher, any distributor, anything. It's just so cool. We're going to be free of the big machine, but doing the biggest release of my life.