Tom Cruise is Ripped in "Rock of Ages"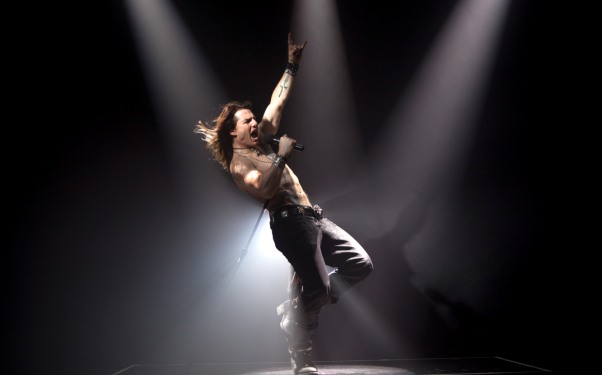 Posted by Brandon Kim on
It felt right when it was reported that Tom Cruise would be in the film adaptation of the Broadway musical, "Rock of Ages," but I could not have guessed it would end up looking like this. Cruise tweeted this photo of himself from the set of the film and we can see he's gone hardcore into the role.
Cruise plays rocker Stacee Jaxx, looking like Danzig almost as much as he looks like Tom Cruise. Musically, he'll be softer than he appears, singing Bon Jovi's "Wanted Dead or Alive" among other numbers like, "I Wanna Know What Love Is." We know he can lip sync but can he sing? According to Katie Holmes and director Adam Shankman, the answer is a big yes. "We were basically dancing around the living room and high-fiving each other because he actually has a fantastic voice," Shankman told EW. "His grandfather or his great-grandfather was an opera singer, so apparently he's genetically predisposed for this sort of thing."
"Rock of Ages," which also features performances by Alec Baldwin, Paul Giamatti, Russell Brand, Catherine Zeta-Jones and Mary J. Blige, is set to open June 1st, 2012. Still not sold? Dig this photo of the aforementioned longhairs, Baldwin and Brand, up on the film's facebook page.
Russell Brand and Alec Baldwin in "Rock of Ages," photo: facebook.com/RockofAges
What do you think of this cast? Let us know in the comments below or on Twitter or Facebook!