The expectations game and "Cars 2"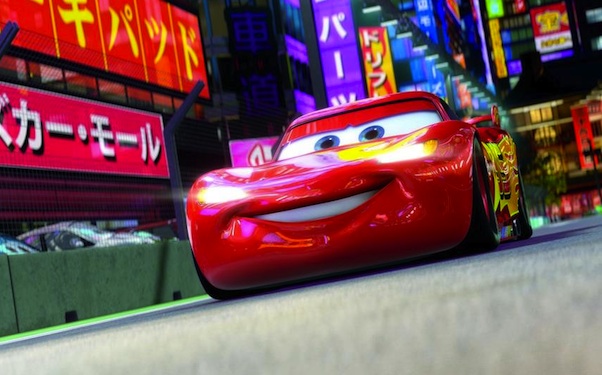 Posted by Matt Singer on
Over on The Projector, Will Leitch wrote an interesting piece about the online discourse surrounding the release of Pixar's twelfth animated feature, "Cars 2." He nicely sums up a lot of things I've been thinking about the movie and its aggressively negative reception by critics, some of whom appear almost giddy in describing the fact it will be the first Pixar film to earn a negative score on the movie review aggregation website Rotten Tomatoes. It wasn't simply that people saw the film and didn't like it; some people didn't like it before they saw it. "It's the Pixar narrative," Leitch writes:
"…'Toy Story 3,' in addition to being one of the most beloved movies of last year, was seen (in the eyes of movie writers, not Pixar) as some sort of goodbye to the Good Ole Days of Pixar, the admission that the company couldn't stay on its hot streak forever, that they would have to grow up and turn into Disney eventually. That the next movie was 'Cars 2' — a sequel to the only nominated Pixar film since 2003 not to win the Best Animated Feature Oscar, the one with that Larry the Cable Guy ewww — secured the narrative: Pixar was now just trying to make money and didn't care about quality anymore. 'Cars 2' was seen, months before anyone had seen it, months before it was even done, as a sign of creative bankruptcy."
I've heard and read colleagues complain about "Cars 2" for months, all throwing out assumptions about the film and its guaranteed lack of quality. Because the first "Cars" was easily the most poorly reviewed movie in Pixar history (to that point) and because "Cars" merchandise is a billion dollar industry, the story from the beginning has been that Pixar only made "Cars 2" the movie so they could make "Cars 2" the toys. It would be naive to assume the franchise's merchandising popularity didn't play a major role in the film's production — of course it did — but it's equally naive to assume that it played the only role.
"Cars 2," like "Cars," is the brainchild of John Lasseter, the chief creative officer of Pixar. More than any other film since "Toy Story," "Cars" is Lasseter's baby; he developed the idea for the series after a family road trip along Route 66. Though critics might hate the world of "Cars," Lasseter clearly loves it. Why else would he chose to direct "Cars 2" instead of "Toy Story 3?"
While the online film community might hate "Cars," there's another important group that loves it: children. Merchandise doesn't earn a billion dollars just because someone makes it — just look at the tons of "Tron: Legacy" toys currently sitting in bargain bins across the country. Yes, you could cynically say the "Cars" characters were designed from the ground up as toy fodder. But I've watched "Cars" and played with "Cars" toys with kids. They do love them. Lasseter tapped into something primal here, just as he he did with "Toy Story." But "Toy Story" was, from the start, more sophisticated and more knowing. It appealed more widely to both adults and to children.
Which brings up another interesting quirk of the narratives that movie writers like to write. How often do we read reviews of mainstream films bemoaning the fact that modern movies are watered down and rendered safe, bland, and boring by design to cater to the widest possible audience? Well, no one is better at this than Pixar — films like "Wall-E" and "Up" represent perhaps the finest expression of that one-for-all filmmaking style. So when Pixar makes a movie for everyone, they're geniuses. When they make a movie aimed at children, when they narrow their focus and appeal exactly how film writers often prescribe, they're lambasted for it. Ironically, it's when they go narrow that they're accused of playing it safe and watering down their material. These people are damned if they do and damned if they don't.
That's because Pixar, more than any other movie studio — now or maybe ever — has accrued an untenable reputation for quality. Critics and movie writers treat Pixar almost like a public trust; they forget that it is and always has been the arm of a major moneymaking corporation. Pixar, they say, must aspire to greater. And, hey, I wish every movie they made was as good as "Up." But it is sort of crazy that people are getting so upset about Pixar making a toy-friendly movie when the entire foundation of the company was built on the most toy-friendly movie in film history. A part of me wonders whether they didn't bite the bullet on "Cars 2" and accept that they'd get trashed for it just so they can get their first "flop" (a flop that's already grossed $68 million bucks) over with so they can change the "Pixar narrative" to from inevitable fall to inevitable comeback.
According to Leitch, "the worst movie writers… are the ones who treat movies as some sort of expectations game, who go into every screening with as much information to supply their preconceived (and often incorrect) notions of a film as possible. Then, if the film is slightly better than they thought, it is 'good.' If not, it's 'bad.'" I agree. I haven't seen "Cars 2" yet. It's possible when I see it, I'll disagree with everybody and think it's a masterpiece. Or maybe I'll hate it too. But whatever my opinion, it'll be my opinion of the film, and not of the toy line.
Do you think critics treated "Cars 2" unfairly? Tell us in the comments below or on Facebook and IFC.