"The Baby" is crying out to become a major cult film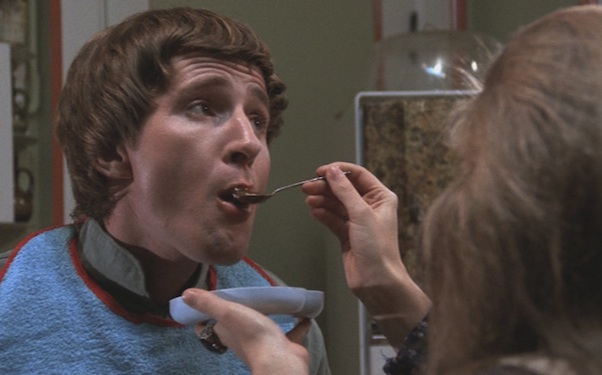 Posted by Matt Singer on
A quick recommendation of a new DVD of an old cult film: 1973's "The Baby," from director Ted Post. The story is sort of "Cinderella" if instead of forcing Cinderella to do manual labor, the wicked stepmother and stepsisters brutalized her into pretending she was a giant overgrown baby so they could suckle off the government teat by collecting her welfare checks. There's no Prince Charming in this version, but there is a charming social worker who believes the "baby" (whose name is, well, Baby) is being mistreated and abused and is capable of acting like the adult he physically is.
For the life of me I can't figure out how this film came to exist. A world in which no one but a single social worker is concerned or even skeptical about the "Grey Gardens" nutjobs and their adult baby son? Even her bosses at the welfare offices tell her to look the other way (your tax dollars at work, ladies and gentlemen!). I love how Post calls writer Abe Polsky's story "abnormally dark" in his interview on the new "The Baby" DVD. What was Polsky thinking? More "baby horror" for the all the legions of "Rosemary's Baby" fans out there? For whatever reason they did it, he certainly nailed his target: this thing has a baby, and it is supremely creepy.
Anjanette Comer stars as Ann, the caring case worker. Her nemesis is Baby's suffocating mother Mrs. Wadsworth played by Ruth Roman in a performance that anticipates the psychotically over-protective, big-haired dementia of Faye Dunaway in "Mommie Dearest." The step-sisters are technically half-sisters, Germaine (Marianna Hill) and Alba (Suzanne Zenor), but supremely unsettling. Baby is played by the truly infantile David Mooney. And I mean that as a compliment.
To talk about what makes the movie great is to spoil most of its charms, so I will make this brief. But in sum: this movie is weeeeeeird. It's all shrill women playing mind games with one another, mentally or physically torturing each other, drugging each other, and attacking each other, all for the sake of this one, giant man-baby. And the ending is one of the great bat-shit crazy twists of all time. You have to be willing to go along for the ride. But if you are, man, what a ride this is.
"The Baby" is available now on a new DVD featuring a restored print of the film and interviews with the director and star. If you check it out, tell us what you think in the comments below or on Facebook and Twitter!