Telltale Games Brings New Chapters Of "The Walking Dead" and "Jurassic Park" to Video Games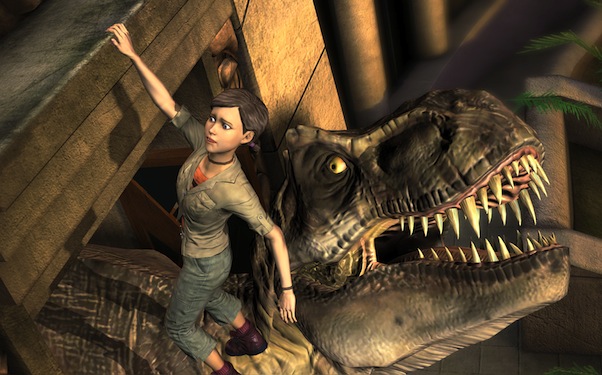 Posted by Evan Narcisse on
Longtime gamers know Telltale Games for classic adventure titles like The Secret of Monkey Island and the Sam & Max gonzo detective series. Those games hit during the heyday of PC gaming but, as the dominance of consoles grew, players' awareness of the development studio receded into the background. "Monkey Island" hero Guybrush Threepwood has charm and wit for days, but the adrenaline rush of action-centric games proved one dilemma he couldn't talk his way out of.
But, Telltale's enjoyed a bit of a renaissance of late. Part of it is the emergence of iOS as a gaming platform. The touch interface of Apple's portables makes a nice fit for both their back catalog and new games, which often still work on the point-&-click model. And the episodic structure that they've always hewed to makes each piece of content a bite-sized morsel that feels less financially off-putting. Of course, it helps that the quality ratio has been consistently high for Telltale's releases. The brain-teaser puzzle design gets married to genuinely funny dialogue and characterization. From there, an attention to detail makes their games–both licensed and original–ring true in deeply satisfying ways.
At E3 last week, Telltale showed off the next media properties to get their patented treatment. As they've successfully done with the Back to the Future games, Telltale's revisiting the "Jurassic Park" mythos with a new game that takes place parallel to the first movie. A hidden cache of dinosaur embryos brings skullduggery to Isla Nublar, bringing a cast of characters into conflict with both themselves and the giant reptiles all over the tropical environs. Telltale says that it's their most cinematic game to date and the trailers thus far seem to bear that out. It'll also be controller compatible on PCs, meaning that gamers who go back and forth between that platform and consoles will feel more comfortable.
Where the "Jurassic Park" game pings off an extant movie, Telltale's "Walking Dead" project lives a bit more distantly from the TV show of the same name. "The Walking Dead" game doesn't retell any of lead character Rick Grimes' story. Instead, they're introducing a new character named Lee Everett, who wakes up after the prison transport carrying him crashes. Waking up to find the undead swarming all over the landscape, he encounters a seven-year-old girl named Clementine, who he takes it upon himself to safeguard. Lee will encounter other established characters from Robert Kirkman's zombie masterpiece, with run-ins with supply messenger Glenn planned. In a twist, while Rick's trying to get into Atlanta, Lee is trying to get out. The game's rooted in the comics universe and will precede the events that happen on Hershey's Farm in the series.
Telltale's also working on a game based on DC Comics' fairytale-meets-real-world series "Fables" but weren't talking details on that title yet. Fans wanting to dive into the worlds of "Jurassic Park" and "The Walking Dead" should look for them this fall and winter respectively, with versions planned for PC, Mac, Xbox 360 and PS3.