Takashi Miike to Direct "Phoenix Wright" Movie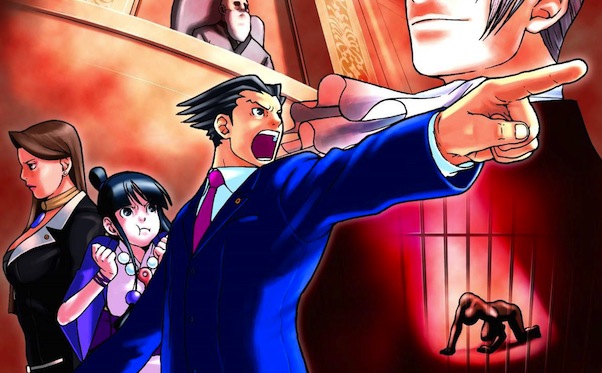 Posted by Evan Narcisse on
Over the last forty years, video games have put forth a lot of unlikely heroes. A plumber, in the form of Mario. A glutton, in the form of Pac-Man. A horndog loser, in the form of Leisure Suit Larry. But few have been as unheralded as Phoenix Wright, the legal eagle who starred in a series of Capcom games.
The "Phoenix Wright: Ace Attorney" games placed you in the wingtips of a hotshot lawyer, tasked with proving the guilt or innocence of a motley procession of everyday folk and faded celebrities. In a typical "Ace Attorney" game, you'd hunt for clues in various locations and talk to persons of interest who might info on a case. Then, like a "Law & Order" episode, the action shifts to a courtroom where you put witnesses on the stand and whip out evidence that shatters their alibis. (Now that I think about it, it's very similar to "L.A. Noire," but played for goofs rather than chills.) The verbal arguments and cross-examinations unfolded in the hyper-stylized, speedline-laden sequences of a anime action cartoon, with Wright's cry of "Objection!!!!!" becoming the series' iconic catchphrase and moment. The series debuted on Nintendo portables and eventually wound up as downloadable releases for the Wii home console.
After rumors floated in the last week, Capcom's confirmed that a film adaptation of "Phoenix Wright" is underway with director Takashi Miike attached. Miike's current hit "13 Assassins" showcases the deadly serious side of the director's oeuvre–also seen in his cult faves "Ichi the Killer" and "Audition"–but he's been known to go wacky, too. His newest film, the enthusiastically titled "Ninja Kids!!", will show at this year's New York Asian Film Festival and centers on the story of a rivalry between two martial arts schools.
It's not clear which Miike will show up for the "Phoenix Wright" film but it's a safe bet that it'll at least incorporate the anime-style courtroom battles the games are known for. One cast photo's been released of lead Hiroki Narimiya done up as Phoenix and the movie's tentatively scheduled for release in Japan in the spring of 2012.
So, gamers and film buffs, how do you feel about Miike working on "Phoenix Wright"? Are there any of the games' cases that you hope show up in the movie? Let us know in the comments below or on Facebook or Twitter!